Unity Should be the Goal Next Year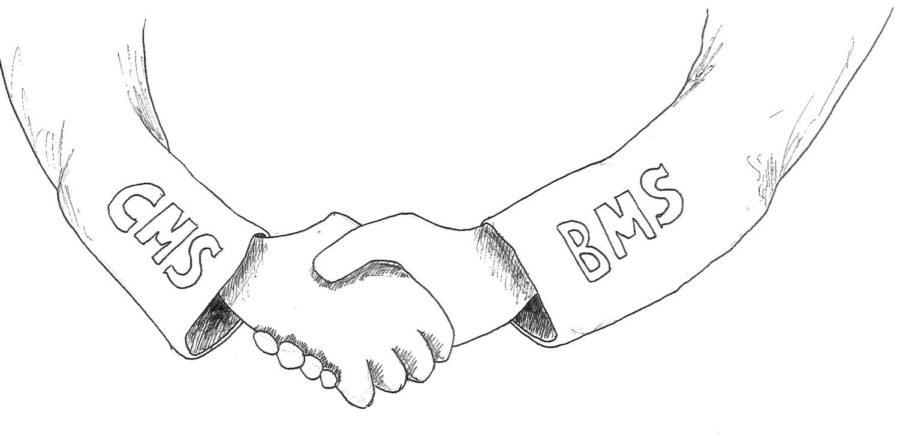 Except for CMS 8th graders who held classes at Staples High School this year, two schools have been under one roof, and it's been a tough year.

There were makeshift classes in open spaces, schedule changes, crowded hallways, added lockers, lack of teacher work spaces, and podless pods in both schools. Every classroom, every foot of workspace, and every minute of the day were filled to the brim in order for every middle school student in Westport to be able to go to school.

Next year, the Westport Board of Education, has decided the 8th grade CMS students at Staples will move to BMS, bringing the total number of students to 1,304 and the staff count to around 180. With this increase, Bedford will be packed.

Bringing two schools into one will have its share of challenges to deal with. Here is a short list:

There have been changes to the lunch. The seventh graders and the eighth graders will be having lunch together. There will not be enough room in the cafeteria for all of eighth and seventh graders. So, there will two lunch waves for both of the grades.

All of the grades will be separated not just three pods, but with one "superpod" made up of teachers who will teach both seventh and eighth graders. All 8th grade teachers are going to be traveling between two rooms.

The library will remain mostly the same, but the stairs are going to be removed and classroom space built into the landing on the second floor.
The portable classes will obviously be used, but as of yet there has not been news on which classes will be in them.

There is a new schedule, the third in two years that students and teachers will have to get used to
With so many people from two school under one roof, and so much change ahead "Ursus" is asking everyone to focus on the idea of unity.

Dr. Rosen has said that unity for both schools is important, and we agree. The schedule changes and the location changes are nothing compared to what needs to happen to bring the two schools together. We need to learn how unity is very important in this situation and what we all need to work together in order to get along and succeed. This can only be accomplished through getting to know each other and getting along. That is what we need to do and that is what must be done.