Get the Lead Out: Discarded Pencils and One Writer's Collection of Them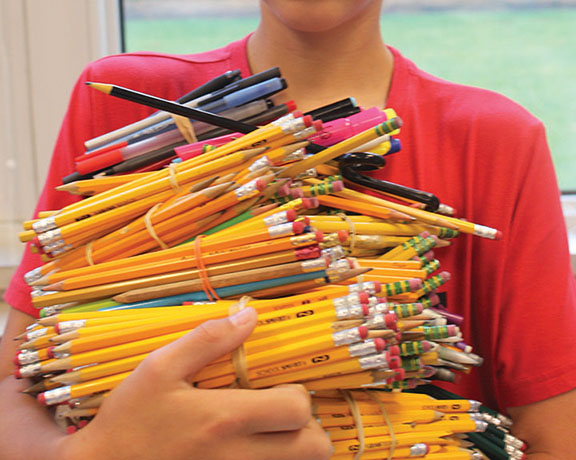 Hang on for a minute...we're trying to find some more stories you might like.
Walk 10 feet down a hallway and you'll find a pencil on the ground. Try it right now; you just found a pencil for your next class.
There is a constant supply of pencils littered in our school. Do students not care about their pencils? Custodian Rushawn Brown says he notices, "around 30-40 pencils a day … Pencils are an easy thing that kids forget in between classes and during conversations." It would seem that these floor-pencils are endlessly supplied. The pencils go through a cycle and are likely used by multiple students during a day. The floor is a perpetual pencil farm, and we all are a part of it. So do we pencil farmers not care about our pencils? "I think that once a pencil is dropped, most people wouldn't bother to pick it up," said Hannah Sachau, eighth grader.
Some individuals care a lot about their pencils. These are the pencil collectors. That big pencil display behind the glass; however, is made by the Art Collective.
The Art Collective is run by Mrs. Cecily Anderson, art teacher. "Our goal is to look at the meaning behind everyday things." Mrs. Anderson said. This pencil display is made by a small group of pencil farmers who follow their own pencil farming constitution. They even collected pencils from custodians; rather than throwing them away. Their purpose was to get people talking and challenging themselves to get as many pencils as they can. The Collective is currently debating what to do next.
There are a few lockers around that have their top section completely full of pencils. Some people are very tempted by the Art Collective's display. Christian Jones, eighth grader, says "Every time I walk by there I have to stop imagining a "Free Pencils" sign and shoving my pockets full."
Pencils have caused problems in the past. Many serious vandalism issues have been related to heaps of pencils. This is why pencil collectors have been on the "Watch List" in the past. A locker full of pencils could be suspicious at times, and alike a neighborhood crime watch area. I have been interrogated about my prestigious pencil collection in the past. I am proud of my pencils and would never do such a thing. Even the Art Collective was a bit discouraged by the speculation.
Bedford's Favorite Pencil
Some collections are so large that they can be used as samples. After an intensive pencil breakdown, the numbers to the pie charts on this page were provided by my collection. I don't know what to think about spending a few of the last hours analyzing my collection.
Sure, we know how many of each pencil the cycle contains – but we also know our favorite pencil. Dixon Ticonderoga seems to be the favored candidate. "Ticonderoga's have a nice eraser and a better grip," said Ben Berkley, an eighth grader. Most students prefer Ticonderoga. Other disregard pencils completely. "Pens are better!" Noah Hofstetter, eighth grader said.
Bedford's most popular pencil is School Smart; rather than Ticonderoga. This is likely because teachers give out School Smart pencils to kids. At least their pencils are being used in the pencil farm. In the floor items graph below, you can see that pencils are the most common writing tool on the floor; however, others may be just as popular. Pens may be considered more valuable and are not dropped as often.
So, since School Smart pencils are thrown on the floor after they are given out, would teachers want to stop this? "When I was a math teacher, I used to give out golf pencils. No one likes those, and they won't get stolen. It can even be used as a small punishment if a student forgets his or pencil," said STEM teacher Mr. Art Ellis.