Surfing the Streets on One Wheel
Some BMSers get to school a little differently!
The Onewheel is something that riders say everyone will immediately fall in love with. All kids think it looks cool, and it is cool.
The Onewheel is something you feel free on like snowboarding. It's like being on the slopes, but any time of the year. Or, if snow is not your thing, like surfing on land.
The Onewheel is so smooth it can go off-road to do trails and some jumps, or you can just cruise along on the road.
This is how it works. There is a battery in the wheel to keep it moving. There are sensors in the footpads which recognize weight once you lean forward. This moves you forward. To stop, riders lean backward, and once they are balanced lifting a front heel slows the machine.
Careful, using this motorized skateboard does involve practice and balance.
You can buy many different accessories for the Onewheel. But you can buy some things for yourself too.
Some of the items you can buy for the Onewheel are a fender, bumper, a handle, a supercharger, flight fins, rail guards, a backpack to carry it in, a side stand, extra footpads, charger plugs, and a Onewheel mat.
Some things you can buy for yourself are a mini finger kit that is a mini Onewheel that you can play with your fingers, lots of types of helmets, stickers, different hats and beanies, hoodies, socks, shirts, gift cards, tank tops, and padding in case you fall.
The one wheel can go around 12-18 miles a day on one charge.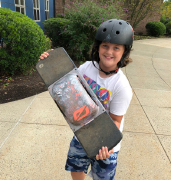 This activity does come with a price tag. It ranges in price from $950 to the XR, which costs around $1,800.
With the XR+ there is more mileage, thicker footpads and it is more advanced. With this newer technology, you can have more fun riding and take longer trips. There is also a newer battery pack that allows you to get that more mileage and to ride longer.
The inventor of the Onewheel is Kyle Doerksen. This amazing invention that kids love was created in 2015 in Santa Cruz.
But you really have to be careful. The injuries start from small scrapes to broken bones. The Onewheel is very popular. Kids all over the world can ride the Onewheel. It is an amazing feature that has come into this world.