Jeremy Schapp Covers the Issues in Sports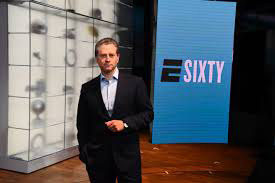 On Thursday, Nov. 21, Staples graduate, Jeremy Schapp, a sports writer and reporter for ESPN, spoke at an event called "Speakeasy" at the Weston Public Library.
He talked about his career and all of the interviews he has done. Schapp followed in his father Dick Schapp's footsteps.
Jeremy described him as a workaholic who loved what he did. Whenever Schapp would get home, he would just see his father writing.
Like his father, he believes that sports is not just about the wins a losses. "The thing I like about sports is that it's a way to bring people together," Schapp said. Schapp has had an impressive career filled with many interviews of famous athletes. He also has had some interviews that have not gone the way he would have wanted them to go.
He once interviewed former Indiana basketball head coach, Bob Knight, and the famous chess prodigy Bobby Fischer. Knight was fired from Indiana University after an altercation with a player. After the firing, ESPN wanted an exclusive interview with Knight and believed Schapp was the man for the job. Knight insisted that the interview be broadcast live on ESPN so nothing could be edited. During the interview, Knight said what he wanted whenever he wanted and didn't really answer any questions.
Schapp as he tried to get more answers kept interrupting the coach prompting Knight to say, "You know, you have a long way to be as good as your father. You should keep that in mind." Schapp responded to the comment by saying, "Thank you, I appreciate it."
Schapp, along with a lot of people, is a big sports fan and loves everything about sports. The two shows that Schapp hosts, "Outside the Lines? and ?E60,? focus on the issues surrounding sports. On "Outside the Lines" he talks about all the controversies that go on in sports. For example, he covered the alleged 2017 Houston Astros cheating scandal and the most recent incident involving Antonio Brown.
On "E60" he examines the impact of how current news stories have an impact on sports. For example, the week after 9/11 attacks, Schapp reported on the impact the terror attacks had on the sports community, including that there were no sporting events being held.
Schapp was also apart of a story covering a high school football team in California that no one really cared about. After the report came out, people became interested in the team. During the recent California wildfires, this sports story helped bring a struggling community together. Schapp has strong opinions about many things in sports. For example, in college sports he believes that an athlete's practice schedule should be limited, and the athletes should spend more time on academics since, after all, they are at school to learn.
Schapp also has a lot of interest in soccer. He has covered many World Cup and Euro tournaments.
Jeremy Schapp has had an incredible career reporting on sports in different ways, especially since he isn't your typical play-by-play reporter. He looks at sports from a whole new angle. Schapp currently lives in Westport with his wife and three kids.