A New Club Runs into BMS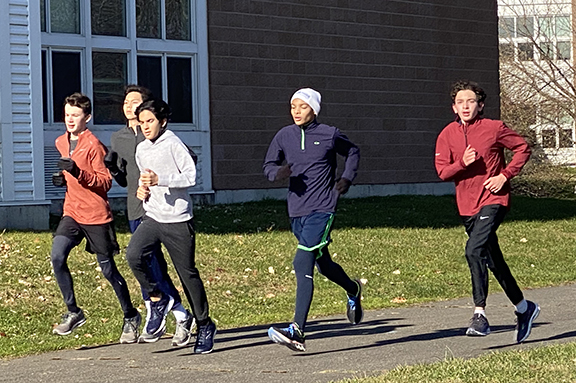 "Running is something everyone can do, but some can do better," said Mrs. Colleen Rondon, a grade eight science teacher at Bedford Middle School. "I want kids to learn to do it better. It helps build confidence, and there is no equipment needed. It is a lifelong skill. I am trying to start habits."
Mrs. Rondon is starting a Bedford running club open to all kids in all grades. "My son is running in Staples, and some kids got hurt. They were not able to run the amount they needed to feel successful." Ms. Rondon's goal of this club is to help kids learn how to run before they are running at Staples. This running club helps teach you many skills. "First it teaches you safety. We are not going to be running on roads, but if you were to run on roads there is a certain way to do it safely. It also teaches you how to pace yourself, and how to slowly build up your speed. Most importantly, it just teaches you how to have fun with running."
The club will specialize in distance running and building up the cardiovascular system, said Mrs. Rondon.
According to "Podium Runner," a website devoted to running techniques and strategies, running can help improve the body's immune system, build muscle strength, boost cognitive function, and can even help you sleep well.
Bedford used to have a running club eight or so years ago. The Bedford running club is still pending approval from Dr. Rosen and Superintendent Scarice. Mrs. Rondon is optimistic about the bright running futures of the Bedford students and hoping that she will get approval for this running club.