UEFA Champions League – What is it and how does it work?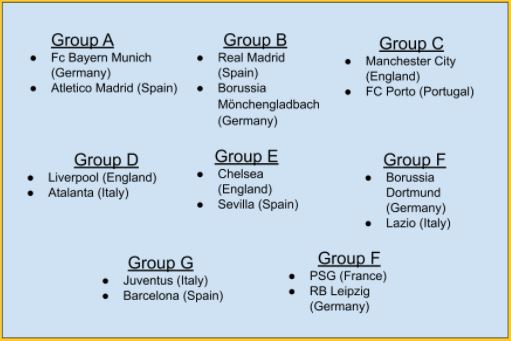 In Soccer/Futbol, every year, 32 teams fight to win the UEFA Champions League Cup or the treble. The teams to compete include the top four in the Spanish, English, Italian and German leagues; France and Russia's top two; and the domestic champions in Portugal, Ukraine, Belgium, and Turkey. Teams are randomly drawn into groups of 4. These groups compete against each other for 6 games and the top 2 teams from each group make it to the knockout stage. In the knockout stage, teams are also drawn against random other teams that made it to the knockout stage. It is round-robin style from there, if you lose you are out. In the knockout stage, games are also played in 2 different legs except for the finals. This means that there are 2 different games played in each of the team's stadiums.
Because of COVID, there are zero people in the stadium watching every game. Given this information, they play fake fan noises on the broadcasting channel the game is shown on to make the game more interesting.
This past week, the 6 group matches have come to a close and the knockout stage starts in February. I have made a chart of the teams that have qualified for the next round.
8th Grader Wilfred Hurley is a big fan of the sport. He knows all about it and loves watching it with his dad. However, not every Bedford student feels the same way. Here is his opinion on how he and other students can relate to the Champions League: "I think that it is very important for me, but the world cup and the premier league matter more. The champions league is great, but most of the time the teams I support never do well. To other students that support teams like Bayern and Real, I can see why the champions league is so important." In conclusion, the Champions League can be real fun for people who support big teams who have won the competition multiple times.