Info behind a hashtag
Hang on for a minute...we're trying to find some more stories you might like.
If you tend to take the occasional scroll on Twitter, Facebook, or Instagram, you may have seen the widespread hashtag #MeToo.
These two words have a meaningful purpose: The hashtag was popularized when actress Alyssa Milano tweeted to her followers to "write 'me too'" if women have "been sexually harassed or assaulted." This tweet coincided with the Hollywood producer Harvey Weinstein's investigation for sexual harassment and assault allegations. Within hours, the #MeToo went viral. During the next few days, over 12 million had used the hashtag and were speaking out about their experiences.
This movement was originally created by activist, Tarana Burke. She launched the #MeToo movement to help underprivileged people of color who were affected by sexual abuse. She had been working on the movement for a long time, and it was Alyssa Milano who helped her bring the movement worldwide.
It started with celebrities speaking out and now it has grown to touch every corner of our society: in churches, in the government and politics, in the military, gymnastics, and other athletics, and in the arts. The world is realizing that this problem needs attention, and it needs to be stopped.
The Women's March was recently organized in New York City and around the country, and many women protested in order to have a voice in the world.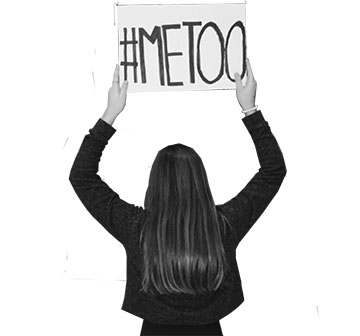 Nick Lolis
Celebrities too are using their voices not only verbally through media, but also with their actions as well. At American entertainment awards, celebrities protested by wearing a certain color or object.
The purpose of the hashtag and the movement is for women to speak up who have not usually voiced their thoughts before. They want to shame the perpetrators and stand up for the victims.
According to RAINN.org, every 98 seconds, an American is sexually assaulted, and still most abusers are not held accountable for their actions. The more people who share their stories, the more people won't feel shamed and scared; they will feel empowered to fight back. When more awareness is brought upon this issue, it lets people know that sexual harassment and assault are problems needing attention.
The world is evolving, and it is possible that "we actually have the opportunity to hand out children a different world," as Michelle Williams said. The act does not just affect adults; it also plays a large role on children and how they are brought up.