All Win When There is a Coin War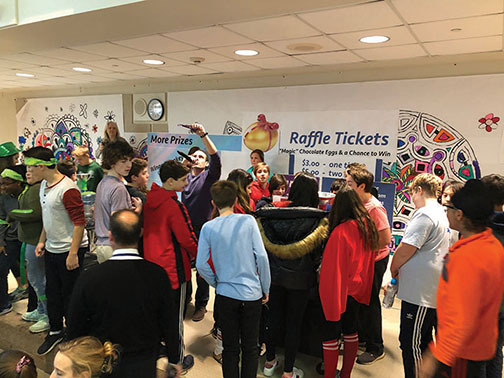 Hang on for a minute...we're trying to find some more stories you might like.
The eighth grade Purple Team claimed victory over the 2018 coin war. With a total of $2,594 and 36 cents, the Purple Team won by $539.04 over Red Team and $1,557.36 over last year's winner, the Green Team. Adding up each pod's money, the total is a massive $6,805.63.
The Coin War is a donation of money to the Westport Department of Human Services. Specifically, 85 percent of that money goes to the 'Tis the season fundraiser, 10 percent goes to a scholarship program and 5 percent goes to camp funds. The Coin War lasts for one week and has been going on for 15 years.
Over the 15 year span, 8th graders have raised $94,326 together. The 8th grade Purple Team's math teacher, Mr. Kevin Cuccaro says, "I love the enthusiasm that 8th graders bring." The PTA helps promote the event and counts the money at the end; Mr. Cuccaro and 8th grade teachers help run the collection during the week.
Mili Green, an 8th grader from the red team says, "It was fun! It was nice to have something to bring the pods together after we were separated because of the new schedule."
Mr. Cuccaro also shared his opinion about the spirit behind the Coin War. "I love how it brings the 8th graders together to raise money." Mr. Cuccaro states, "Westport is the ultimate winner in the end."