Science Olympiad Wins States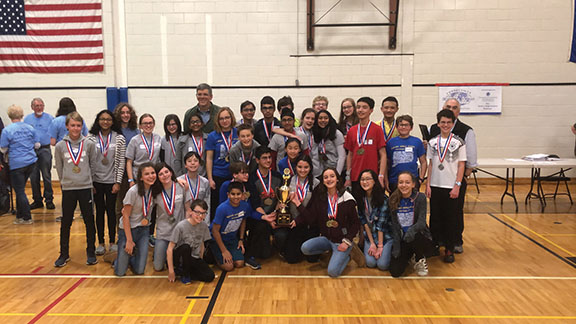 On Saturday, March 16, before the sun had risen, Bedford's Science Olympiad members met at the school to board a bus. That bus would take them on their long trip to the States competition at Irving A. Robbins middle school in Farmington Connecticut.
States is a competition that brings together all the Science Olympiad teams in a state and determines the winning team, which will be the only team in Connecticut to compete in the next larger national competition.
The competition consists of many tests taken by a selected group of students and the presentation of their thoughtfully designed projects. All group members of Bedford's team commit to preparing for competitions for many hours after school.
Their work paid off, and they were the victors of the 2019 States competition. Maia Gubitz, a member of the team, said that they didn't have it easy. "In my opinion, States was also really hard. The tests were really well written. I'm glad we came first, but it was really anyone's game since the other teams were just as good."
She and the rest of the team had to work hard to win. Maia also says the experience was worth the work as well. "The team was so supportive. To be there with all your friends is just so amazing. Also there were people who didn't make the team, but they still came to help and support us." Kaitlyn Seo, another member of the Bedford Science Olympiad team, placed in Anatomy, Disease Detectives, Herpetology, and Game On, a Scratch coding test. She got first place in Anatomy, third place in Herpetology and Game On, and fourth place in Disease Detectives.
With another victory under its belt, Science Olympiad will be heading to its next challenge: Nationals. Nationals is another competition that involves many teams, but this competition will involve teams from across the country.