A Veteran Helps Out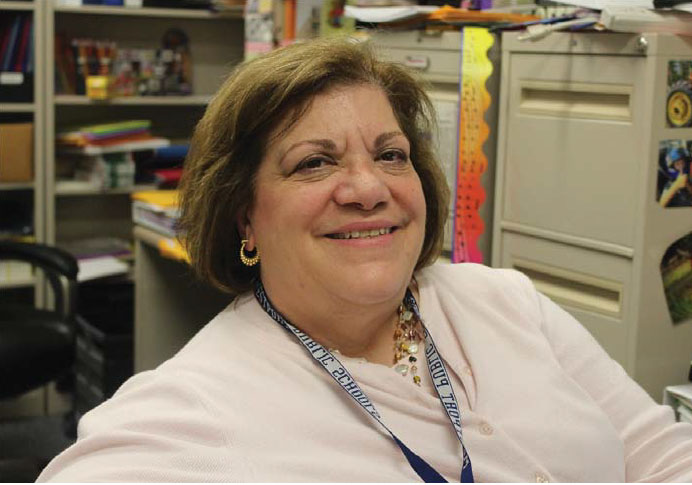 As many students at Bedford know, Mrs. Michelle Anderson, the 7th and 8th grade orchestra teacher, is not at Bedford due to personal reasons. Her long term substitute is Mrs. Adele Valovich.
Mrs. Valovich is a former Staples High School orchestra teacher. She retired just last year after 41 years total of teaching in Atlanta, GA, Rochester, NY and Westport CT.
In retirement, Mrs. Valovich started metal sculpting. She makes garden benches with dog graphics on the back. She says, "It's all new to me and very exciting." But then she comes back to teaching. She was asked why. "Mrs. Anderson is a very dedicated teacher and I know that she was struggling with trying to decide how to care for her mother, her family, and her students here at Bedford," Mrs. Valovich said, "I thought I could take some of the stress off of her by coming to teach her students here."
The 7th and 8th graders continued orchestra rehearsals and had their lessons regularly with Mrs. Valovich. As the end of year neared, and Mrs. Anderson still hadn't come back, Mrs. Valovich stayed and conducted their concert and graded final assessments.
Recent news states that Mrs. Anderson is in fact coming back to BMS on June 10th. Of course this means that Mrs. Valovich won't be teaching at Bedford anymore. The experience of having a high school teacher teach middle schoolers was a leading tone for what level of expectancy and commitment high schoolers have for their instruments.
"The art show is an opportunity to not only share our artwork with the community, but also for all of the students to share their artwork with each other and to reflect upon their experiences from the year, and to reflect upon their experiences from the year."