New Schedule Due to CMS and BMS Switch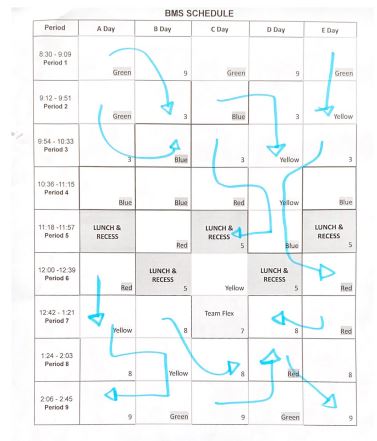 Because Coleytown Middle School (CMS) recently switched back to their building, both CMS students and Bedford Middle School (BMS) students' schedules will probably change. For some, this may be a tiny change, but for others, it could be a pretty big one.
BMS students will be keeping all of their core teachers, but it is highly likely that most of their encore teachers will change. CMS students will also most likely keep all of their core teachers, and see some big changes with their encore teachers.
Schedule changes and teacher changes can be pretty big in a student's daily school life, especially this far into the school year. For example, with lunch waves being at different times,  distance learners may find it hard to have a meal with their family. Students in person may also have to get used to going to their new classrooms and possibly make a new route for themselves. 
Anwara Olasewere, a 6th grader here at BMS, says, "Having a new schedule has been frustrating because I have to memorize another schedule."
Despite all the new things that students may need to learn and overcome, there are still many positive things about this schedule change. Students will meet new teachers and make new memories, and may be able to even go to a part of the school they've never gone to!