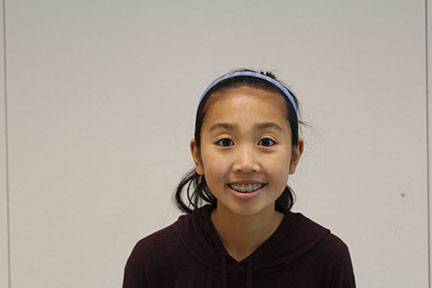 Claire Lee's mother carefully places yet another piece of writing by her eldest daughter in the binder, as she had with so many other pieces Claire and her two younger siblings, a brother named Jacob and a sister, Alyssa, had written in school. The writing meant enough to Mrs. Lee for her to keep them year after year, but Claire wished to get writing experience outside of school.
Claire enjoys writing about current events, especially controversial ones, so joining "Ursus" seemed a fitting way to write more outside of school. For Claire, realistic fiction stands out as a reading genre, but she doesn't like to write it as much because she's "not as good" at it as she is at information articles about debatable topics.
Other favorite pastimes of Claire's are playing soccer, playing piano and stand-up bass, and watching Netflix. A favorite television show of her's is Parks and Rec.
S
he doesn't compose music, and when asked to compare composing and writing English, she said, "Music is a different language that doesn't come as easily."
Clearly, she is a thoughtful eighth grader, who is excited to write articles for "Ursus."
Claire Lee, Staff Writer
Jun 16, 2017

BMS Students Compete at Nationals

(Story)

May 15, 2017

The Effort to Give Kids a Healthy Lunch

(Story)

Feb 16, 2017

Course Selection Brings Angst

(Story)

Dec 23, 2016

The Work that Goes Into Local Skating Fun

(Story)

Nov 10, 2016

New LMC Adds Flexibility to Learning

(Media)

Nov 02, 2016

Judge Finds CT not Funding Education Equally

(Media)

Oct 14, 2016

BMS Recognizes Breast Cancer Awareness Day

(Story)