BMS Students Compete at Nationals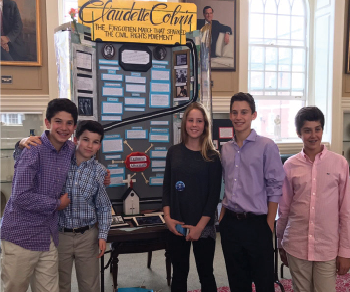 Hang on for a minute...we're trying to find some more stories you might like.
After nearly a year of planning and hard work, National History Day members Anna Hill, Konur Nordberg, Justin Lessing, Preston Rainey and Daniel Rosenkranz, advised by eighth grade social studies teacher Mrs. Caroline Davis, will be presenting their research and inquiry based entry at NHD Nationals at the University of Maryland.
But what exactly have they been working on?
Each year, a theme is selected in which National History Day entries are based upon. This year's theme was Taking a Stand in History. The group chose to focus on Claudette Colvin and her lifetime achievements in order to gain perspective and understanding on the content and give her the credit that they believe she deserves.
"We were inspired by Claudette being a teen, and we are the same age as her," the group said.
The members of NHD have been working on their project since December, committing Tuesdays and Thursdays during lunch along with time outside of school. After putting all their research and work together into their exhibit, they competed in the Fairfield County and state contest. Now, they are working towards winning the national contest.
With the competition date coming up soon, the commitment has increased. The group now comes in every day at lunch, in addition to lots of hours working at home. In preparation, they have been taking the judges' critique from the rubrics at past competitions and improving their project.
But with the large quantity of time dedicated to NHD, it might appear to be a struggle for their advisor, Mrs. Davis. In addition to NHD, she has the workloads of a baby and a job. However, Mrs. Davis doesn't seem to mind.
"I'm so excited about their dedication and process that I don't mind the commitment," she said.
And the students are very devoted towards their project. They even arranged a phone call with Claudette herself to find out more on their topic. "It was a really inspiring and moving experience," said Daniel Rosenkranz. "We heard her passion."
The group has also bonded across this entire experience. Although they were all friends before NHD, they grew as a group and learned to collaborate together.
"Everyone contributed to this project, and we all used our strengths and put them together in order to create the project," the group members said.
You can find out how NHD did at Nationals after June 15, where they will have competed at the University of Maryland.