Schools of the Future? Think Small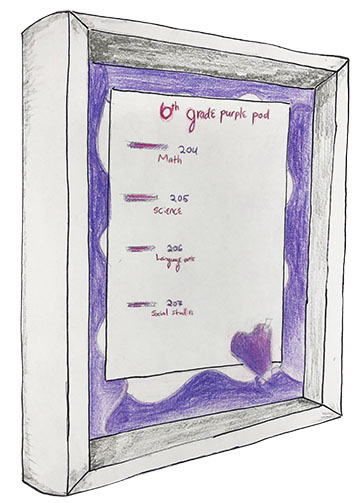 Staff Editorial
March 9, 2019
Hang on for a minute...we're trying to find some more stories you might like.
On Friday, March 1, parents attended a meeting with the Board of Education on the future of middle schools in Westport. They were asked to "envision world-class middle schools of tomorrow," with an emphasis on the "essential elements for us to focus on," and speak about their opinions on the education plan for the coming years.

The "Ursus" staff wants to include our own thoughts on the topic. We firmly believe in these elements that should be kept for students next year and beyond: close knit pods, smaller classes, and easier access to multiple activities.

One aspect unique to Coleytown and Bedford are teams, or "pods," which consist of four teachers for each core class and about 100 students. The purpose of them is to bring these students together to grow familiar with one another and with the teachers, fostering a comfortable learning environment. Students are able to form connections, and through pod activities, they can learn more about themselves and each other. Teachers, too, can get to know them better in order to improve their lessons to fit the kids' wants and needs.

They have also been historically useful from an organizational standpoint. From picture days and seating arrangements during assemblies to schedule changes, which are frequently tailored to fit the pods' needs (for example, if they missed a class that week because of a movie), they are a strong advantage in a multitude of circumstances.

However, the merge between the two middle schools has resulted in some teams losing their enclosed spaces, and the situation is presumed to worsen in the next few years — perhaps with the loss of them altogether, into a "junior high" style format or with larger student bodies grouped together.

Both teachers and students have expressed their thoughts to Ursus, and it seems that this idea will be counterproductive to the small learning environments Westport has had. At the end of the day, we agree that we should keep the pods for all future students.

Another major part that could become complicated concerns after school activities; it is immensely important for the future system to include a rich extracurricular program. We can tell that next year's "megaschool" will lead to less opportunities and greater competition for students, especially if there are the same numbers of plays and music ensembles as there are now. Even clubs that don't require auditions, like Science Olympiad, may become overcrowded. This significantly damages the warm middle school experience.

Larger class sizes and grade levels would, ultimately, be a downside to our school system in Westport. As a bridge between elementary school and high school, our middle school should be enjoyable and comfortable before entering the seeming vastness of Staples. Stress is an enormous problem in schools, particularly for early-to-mid teenagers, and having a smaller school would help reduce it. Smaller pods, classes, and after school activities would help retain a sense of warmth and connection at any middle school.