The Burden of Masks and Sports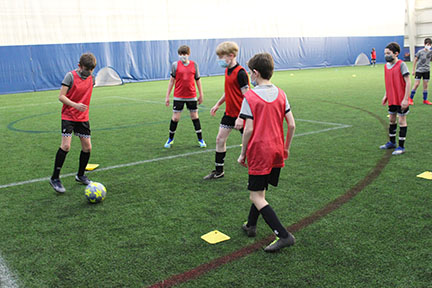 Back in March, 2020, COVID-19 not only shut down cities and schools, but it also forced sports teams to cancel practices and games. Teams met online to hold virtual workouts and remain in contact with hopes of returning to the field.
In the summer months, sports made a brief comeback. Things didn't return to normal, as many safety guidelines had to be followed. However, on Thursday, November 20th, 2020, Governor Ned Lamont officially put Connecticut sports on hold until mid-January, 2021 due to rising COVID cases.
This forced sports teams in Connecticut to meet on Zoom for a second time. It was necessary for sports teams to be able to keep in touch and to remain fresh for when sports would eventually open up again.
On January 19, 2021, the pause on sports was released and sports could go back again, but this time, there were even more limitations set. On the ct.gov website, the Updated Sports Guidance Summary says, "Masks are required in gyms, fitness centers, and during indoor and outdoor sports by all participants, spectators, and coaches at all times, including active play," which perfectly sums up how sports would be able to resume after experiencing its second closure.
However, the key factor about these new guidelines were the masks. Before the November sports closure, players were not required to wear masks on the fields, courts, track, etc. But now, this new variable introduced a whole new set of problems to players. We asked BMS 8th grader Finn Sequenzia to tell us a bit about his experience with this new mask guideline in Connecticut sports. He plays lacrosse and football, and so far he has had only indoor practices. He also says that he does indeed wear masks during practice, saying that he believed they were important for safety reasons in regards to COVID-19 and that they are "definitely uncomfortable" and are "definitely falling off kids' faces." He additionally expressed how he didn't like to wear masks, stating that they also trap a "bunch of sweat" on your face.
We also reached out to Inter CT soccer coach Anthony Quinn to ask about his thoughts in regards to the new mask guideline.
He believes that his players definitely don't like wearing masks and agrees that they must be very uncomfortable, as "I hear many of them complaining about how 'they can't breathe'" with them on, and he also says that the masks "may slightly hinder performance."
When we asked him what he thought about the masks in regards to the safety that they offer against COVID-19, he replied saying that COVID is a very contagious disease and that "we should all do our part to reduce the spread and prevent the ban of all sports," which includes wearing masks while playing sports.
He also believes that the sports mask mandate will be "lifted once the overwhelming majority of the population has been vaccinated." However, this might only happen in a while. "My hope is by the summer," Quinn says. So, after a long time of fluctuating regulations for sports in Connecticut, hopefully sports will be back to normal pretty soon so that kids can fully enjoy their favorite pastime.