Standardized Tests – Should They Be Taken at Home?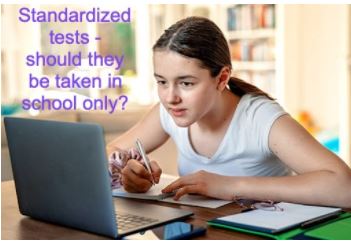 This fall, students in grades 6-8 took the NWEA (Northwest Evaluation Association) test at home while in a zoom meeting. These standardized tests show the teacher what progress the students have made.  
Normally, these tests are taken at school. I asked 3 students the same questions- Are standardized tests okay to take at home or should they be only taken in school? Why?
8th grader Wilfred Hurley said: "I think that taking standardized tests at home is completely fine, as long as all of the students have their zoom cameras on, to make sure they're not cheating".
Perrin Root, another 8th grader, stated: "Personally, I think that it is fine to take them while at home. They are meant to show your progress and if you cheat on them, it only hurts yourself".
Finally, 8th grader Luca Caniato responded: "I think that it is a little risky because if a student experiences tech issues, it can become hard to resolve the problems. Otherwise, I think it is okay. When I took standardized tests at home, I was fine with it and I thought it went well." 
From my own personal experience, while taking the NWEA at home, I got an error message a few times but with the help of the 8th-grade purple pod leader Mrs. Ruggiero, the problem was solved in less than 30 seconds.
In summary, standardized tests are ok to take at home as long as students' cameras are on, nothing major goes wrong with their internet connection, and students respect the honor system by not cheating.
Here is a link to another article I wrote about online testing earlier this year.