Art Show Makes Bedford A Canvas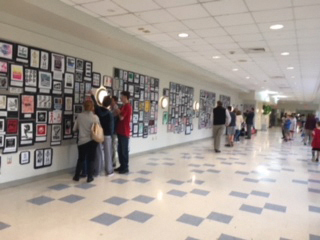 Hang on for a minute...we're trying to find some more stories you might like.
After weeks of after school preparation by the Bedford art teachers, on the night of May 17, the typically nondescript walls and window sills of Bedford held over one thousand colorful paintings, sculptures, drawings, and collages, representing every Bedford student's individuality and imagination.
As visitors toured two floors of art, music carried through the halls, emanating elegance and exuberance to compliment the creative atmosphere.
Visitors from all over Westport were entranced by it all.
"The art show is an opportunity to not only share our artwork with the community, but also for all of the students to share their artwork with each other and to reflect upon their experiences from the year," said Mrs. Lynne Karmen, an art teacher at Bedford. An abundance of mediums were used to create the art in the school. Each grade explored a wide range of concepts, and many of them, as Mrs. Karmen said, expressing students' personal experiences and opinions.
The music was provided by the Bedford Chamber Orchestra, Wind Ensemble, and Jazz Band. Delighting spectators from different locations in the school, these ensembles helped made the night more of a success.
The entire show would not have been possible without the art teachers here at Bedford, Mrs. Karmen, Mrs. Cecily Anderson, and Mr. Mark DeRosa. It takes quite a lot of work to put on the event successfully.
"Our biggest challenge is to coordinate the parents who support us and help hang the artwork. Other challenges are getting students to complete their artwork so we can include as much as possible, and planning the installation and where everything goes. It's also sometimes difficult to communicate everything to the team that's hanging [the artwork]," Mrs. Karmen said on the mechanics of the event.
"This year, it was phenomenal, with all of the parent support, catering, music, art, and the response to the students' work," said Mrs. Karmen.
Students at Bedford enjoyed the art show, too. Ally Schwartz, an eighth grader, said, "I thought it was interesting to see what people in the different grades we're doing all year, since you don't typically see what others are doing in our classes." This supports Mrs. Karmen's goals with the art show in allowing students to share their artwork with each other.
"All of the artwork made the school very bright, which was nice," Ally added.
Additionally, Mrs. Anderson expressed her thoughts on the event. She said, "It's so incredibly important that students see their work on display. They can then see that the work they do in the studio has power in a public space."
Mrs. Anderson continued, "The students have so much to say about their lives and the world that the art show is the perfect platform to hear student voices. I'm so proud of what the Bedford artists were able to accomplish."