Answers to Familiar BMS Questions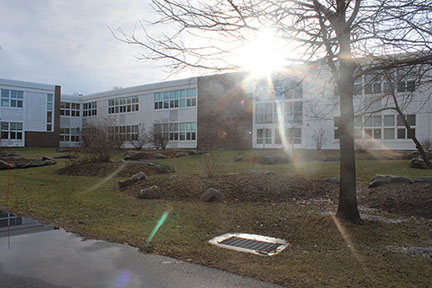 Hang on for a minute...we're trying to find some more stories you might like.
What Happened to the Red 7th Grade Pod?
Lyah Muktavaram
Many have wondered why BMS seems to be a pod short. The "pod," which is located at the end of the 7th grade hallway, is made up of several classrooms across the hallway, but the team doesn't have a physical meeting area. "The Red 7 classrooms are, for the most part, next to one another and on one level. Having students change floors for core academics is not optimal considering our space," said principal Dr. Adam Rosen.
Though there have been changes to BMS, the reason for the pods started with the original design. "The new BMS was originally designed to be a grade 5-8 school with two teams per grade level, which is why BMS was constructed with eight pods to serve eight teaching teams," said Dr. Rosen. This means that when the school shifted to hold grades 6-8, there were nine teaching teams, but only eight physical pods.
Since there are more classrooms, there was room for those classrooms to serve as a team. The layout includes 8th grade teams close to the office, and 6th grade teams near the bus lot, and 7th grade teams in the middle. With this setup, 7th grade was given one pod fewer.
Despite the fact that some students don't like getting into the pod, the adjustment is fairly easy. "Before I had a lot of trouble getting to my classes because the red pod doesn't have an actual pod, but now it is a lot easier," says Tanvi Gorre, a 7th grader in the red pod. She along with others, expected the transition to be harder because the core classes would be spread apart.
Another one of the difficulties that students face is the decision of when to go to their lockers. "I think it's harder to decide when I should go to my locker and when I shouldn't," said Tanvi Gorre. The lockers for the pod are spread out across the hallway, and some are even on the lower floor. As a result, students find it challenging to create a method they can use to get their materials and arrive to class on time. However, after the first weeks, students start getting into a routine with going to their lockers or planning ahead.
Though the team might not have a physical pod, the team still has found ways to work productively. "The feedback I've received by speaking with students and teachers is that the lack of the physical pod structure does not give students or teachers too much of a hard time," said Dr. Rosen. Teachers were able to find ways to get the team functioning as a normal pod. For example, team meetings are held in the science room.
For the future, to build one pod would run into the millions of dollars; understandably, the Town of Westport would probably not spend the money for that. Still, there may be a time in which BMS decides to remodel the school. "BMS could become a grades 5-8 school with two teams at each grade level. Then each team would have a pod," said Dr. Rosen.
Besides small difficulties, the team is a learning community in which students are able to grow. Tanvi Gorre agrees. "The best part about red pod is the teachers. They can really relate to you and help you when you really need it."
What's in the room in the gym?
Paige Farlow
The school is full of secrets, one of which being the mystery behind the locked door in the gym. Locked by one key and surrounded by multiple doors, the inscrutable vault is an enigma to the outside world.
Is the mysterious vault a locked door in the gym that teachers can go to get away from the students and have some quiet time to themselves? Many students do not know of its existence as teachers never share any information about it to their pupils.
There are occasions when it is unlocked and students in gym get a glimpse inside as LA and social studies teachers disappear behind the double doors, but this rarely happens and students are left to theorize what is hidden behind the door.
Perhaps something crazy such as animals the teachers could play with whenever they are stressed—or something enjoyable like a pool table, foosball table, or maybe even table tennis!
Perhaps there is a "teachers' buffet" with a unlimited supply of fresh, 5-star meals. For all anyone knows, there could be a creepy crypt where teachers bury misbehaving students.
As our imaginations run wild, we find out that the truth behind the secret door is not so exciting.
The room is towered high with books for book groups, along with stacks of chairs.
"It's also a storage area for cleaning supplies, cardboard, book carts—anything that can't seem to be thrown out or stored elsewhere," said Mr. Stephen Rexford, an 8th grade LA teacher.
To add onto to this, there are multiple spiders, gravestones, and skeletons from the Monster Mash.
One of the interesting parts of the room is the peculiar metal staircase, pushed against the side of the room leading to the roof of the school. No student or teacher we talked to has ever been up on the roof.
Which leads to another question: what is on the roof of the school?
Hot in One Room, Cold in Another?
Nick Fishel
Do 8th grader George Kocadag's words sound familiar?
"I think the heating system could be better and there should be some sort of air system or controller in each room. Sometimes I go to one class and it's freezing, but then on the same day I go to a different class and it's hot."
According to Dr. Adam Rosen, BMS runs on an HVAC system with several heating and cooling zones. Each classroom has a single HVAC unit–the thing that goes on and off during class or what you're not allowed to place your binders on.
The units all communicate with zone controllers to provide equal conditioning. So, each classroom does not have individual heat control, which can lead to occasional inconsistencies.
The BMS heating system really is complex and includes many different types of components which don't always present direct fixes.
Most students don't have a strong opinion about the temperature, but almost everybody does notice some anomalies every once in a while.
"Last week my social studies room was like a re-enactment of the ice age, but other than that I think it's fairly consistent," said 8th grader Amy Ginzburg.
Dr. Rosen says the maintanence staff is constantly working to both maintain and adjust the system.
How is an issue resolved? First the malfunction must be reported so that a maintenance ticket is sent to district HVAC specialists who come to BMS.
"In most instances, the issue is resolved quite quickly by addressing the software that communicates with the HVAC units, or opening up units to repair closed valves, leaking tubes, broken fans, etc." Dr. Rosen said.
Only several years ago BMS was discovered to have an improperly installed HVAC system. "As a result the zone controllers were damaged, thus preventing proper communications between the software managing the system and the numerous HVAC units throughout the school," Dr. Rosen said. All the wires and controllers have been replaced since then and the system has improved.
"In all, while the system has been improving over the past five years, it will always be a large complex system that will require daily maintenance and upkeep," said Dr. Rosen