Ruggiero is Westport Teacher of the Year, State Finalist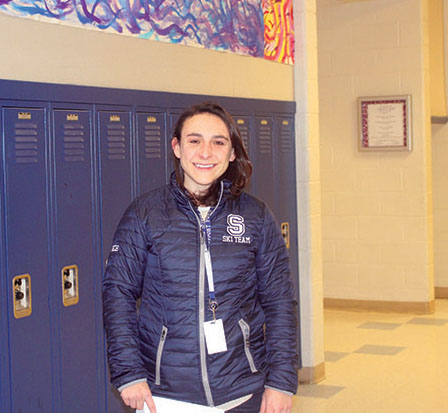 Hang on for a minute...we're trying to find some more stories you might like.
Mrs. Courtney Ruggiero, a social studies teacher at Bedford, has been awarded the 2018 Westport Teacher of the Year for outstanding teaching and was one of four finalists for Connecticut teacher of the year.
"She is smart, always asks questions, cares about her students, and tries to be the best teacher possible," said language arts teacher Mrs. Alison Antunovich who teaches right next door to Mrs. Ruggiero.
Her students appreciate her work in the classroom. "She doesn't try to prove her authority. She makes everyone listen and look up to her," said Amy Ginzburg, an eighth grader in Mrs. Ruggiero's pod. "She relates historical events to our lives now and makes everything seem relevant."
The Teacher of the Year committee receives anonymous nominations from fellow teachers at Westport schools. Each year roughly 10 teachers are selected as finalists in the town. The committee picked Mrs. Ruggiero as most deserving of the award.
The state Teacher of the Year committee had been sent to Westport in late September to watch her in front of her class, and to talk to the people in the community she interacts with in day-to-day life. This was to determine whether or not she'd move from Westport Teacher of the Year to Connecticut Teacher of the Year.
In late September, it was announced that she was one of the four finalists in the state.
For being a finalist, Mrs. Ruggiero will get to be involved in meetings with fellow educators and State Department of Education Commissioner Dianna Wentzell over the course of next year.
"This has provided a great experience for me" Mrs. Ruggiero said.