For Patriots, Will They Stay or Will One Go?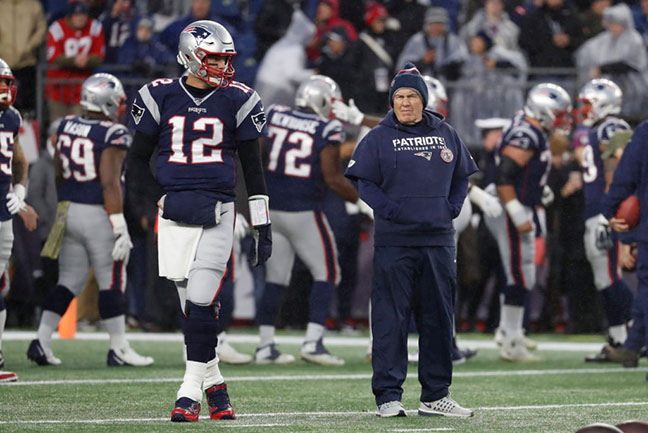 Will Tom Brady stay or leave. That's the question everyone's asking.
Even during Super Bowl Week, discussions were going on about the future of Tom Brady.
People think differently on this topic.
Some people say he should stay in New England because of all the accomplishments he has made there.
Others have stated Tom Brady had no help this year and has had Bill Belichick with him all those years. How great would his legacy be if he was successful with a team besides the Patriots?
"I don't know probably about 40 percent on him leaving, 60% percent on him staying, maybe," said Uros Krsic, a 7th grader.
Lots of people think Tom Brady should leave the Patriots, but to where? Tom Brady said in his weekly interview with Westwood One Radio, "I'm open-minded about the process," when asked if he is willing to play elsewhere.
One of the number of destinations that Tom Brady could go to is the Los Angeles Chargers.
He could go there because the Chargers currently need a quarterback as Phillip Rivers has reportedly moved on.
This could be a destination for Tom Brady due to the talent the Chargers have on their team. The Chargers were a playoff team in the 2018 season with a talented roster, and they have been able to keep some of the same players around.
The Chargers have the receiving weapons that the Patriots don't. The Chargers have both Keenen Allen and Mike Williams in their receiving core with Hunter Henry as a tight end.
Also the Chargers need tickets as they could never sell tickets with Phillip Rivers at quarterback, and they are moving into a new stadium with the Rams that houses over 70,000 people and costs $5 billion. The stadium would be a huge venue for Tom Brady to display his greatness in LA.
Another thing for Tom Brady with Tom Brady going to LA, he could go for money and business ventures.
Lebron James went to the Lakers and had ambitions of making money in Hollywood after his career. He could become even more famous and build up a Hollywood career after football.
Tom Brady's wife, Gisele Bundchen, would like LA the best. As she has a net worth of over $400 million in her fashion career. That is more than $200 million more than Tom Brady's net worth of $180 million. Both Brady and Gisele would love LA.
In all, the Chargers are a possible destination for Brady to go to.
Thoughts have also been mentioned that Tom Brady should go to the Tennessee Titans.
With Derek Henry, the 2019 leading rusher in the NFL, who is 6'3' 238 pounds and will run through a defense any day.
In addition to that, the Titans have a good defense. They have good players all around and were ranked ninth in turnover differential.
Tom Brady could also reunite with his former teammate, Mike Frable. This duo would have such great chemistry.
The only problem with Tom Brady going to the Titans is that they have Ryan Tannahill who is a free agent, and players would want to keep Ryan Tannahill. Derek
Henry was one of those players.
The third and final realistic destination that Tom Brady could go to is the Las Vegas Raiders. Tom Brady can go to Vegas and play in the Raiders' brand new stadium. Allegiant Stadium, a $1.84 billion stadium with a grass field that would also be quite a venue for Tom Brady to play at.
He could also be coached by John Gruden, and to be a star in Vegas. He could go to a storied franchise that has won three super bowls and can add to the Raiders' already great history.
Also, the Raiders have a great offensive line and a great tight end for Tom Brady to throw to.
Tom Brady would be able to play under the great lights of Las Vegas under a storied franchise, and he would play indoors over half the season.
But the most underrated aspect of Tom Brady going to the Raiders is on the Raiders schedule. They play at New England. This could be a revenge match for Brady against Belichick to prove that he is more accomplished than Belichick. If this match happens with Tom Brady as a Raiders quarterback, everyone will be tuned to watch.
Have we been forgetting an option, why not back to New England.
He's only been playing there for 20 years, and has never had a losing season. He can play with the team he's won 6 super bowls with and won it's division almost every year. During Tom Brady and Bill Belicheck's dynasty in New England, Brady's winning percentage is .784. The next highest per 100 games played in the NFL is .713 by Joe Montana, but he started less than 100 games than Brady.
It is also the most comfortable and most stable place for him to play. Where he has been in an easy division. Despite the Bills, Jets, and Dolphins starting to emerge as contenders, the division still isn't the best.
One thing that experts say is that New England doesn't have a good team at all, which isn't exactly true.
The Patriots ranked #1 in yards allowed on defense per game, #1 in turnovers, and #7th in sacks in the NFL, and they have the Defensive Player Of The Year on their team in Stephon Gilmor.
And if those defensive stats weren't enough, the Patriots also ranked #8 in passing yards per game.
Tom Brady can feel comfortable in New England as he doesn't have to move houses, he doesn't have to deal with a bad owner as he has great relations with Robert Kraft, the Patriots owner.
The Patriots are willing to pay Tom Brady $30 million as a pitch to get him to stay, because right now, New England's real only quarterback is Brady.
Now, the main two negatives with staying in New England is their lack of offensive weapons for Brady to utilize, and he has to play under Bill Belicheck, who wanted to move on for him in favor of a younger Jimmy Garrapolo.
Those are the destinations and possibilities of teams that Tom Brady could go to this off season. Patriots, Chargers, Raiders, Titans it's all up to him.
Other experts have said he should go to the Dolphins with Brian Flores and their young roster with over $100 million in cap room. With Miami, don't forget how great the weather is, even the poised Jimmy Butler couldn't resist it and Lebron in 2010.
Tom Brady could also go to the Colts as they have a great offensive line, a good defense, T.Y. Hilton, and has lots of cap space. An additional advantage as well is that the Colts play indoors, so it would make it easier for Tom Brady as he gets older throwing the ball.
Even more far any other possibilities like him somehow going to the 49ers with a Jimmy Garrapallo drop has even been mentioned, and Tom Brady pairing up with
Jerry Jones in Dallas to create the team with the most buzz and media ever.
But whatever happens in free agency, one thing for certain, he's coming back. In a Super Bowl advertisement for Hulu, he said at the ending when talking about
Hulu, "But me? I'm not going anywhere". That could be a nod at him staying in New England, or it could be him confirming he will play next year.
Whatever result happens, everybody will be talking about it, and the decision will be Tom Brady's to make, and we'll see what happens in the near future.