Super Ads Amuse Fans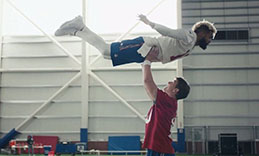 Hang on for a minute...we're trying to find some more stories you might like.
According to Admeter.com, roughly 100 million people watched Alexa lose her voice, Eli Manning dance with Odell Beckham Jr, and Tide be everywhere.
And there was a good football game to watch in between the commercials.
As much as the kids liked watching the high-pressure game, they liked watching the commercials too. Some of Bedford's favorites were the following: Mrs. Banic said, "The double commercial for the Doritos and Mountain Dew was my favorite because it had Morgan Freeman and Peter Dinklage and how they took those two so seriously." Sixth grader Everett Stickley said "I liked either Alexa's backup voices or the bunch of Tide ads you thought weren't Tide ads." Mr. DeRosa said, "I liked the Danny Devito M&M ad because I grew up with Danny Devito movies and on TV; he is hilarious and a great pick to become an M&M."
This reporter thought the Alexa commercial was the funniest because the backup voices were very funny in what they answered to the questions, especially Gordon Ramsay venting his anger at the person who asked Alexa how to make a grilled cheese sandwich. "The recipe's in the name, you [expletive deleted]!"