Kids line up for COVID Vaccine Shots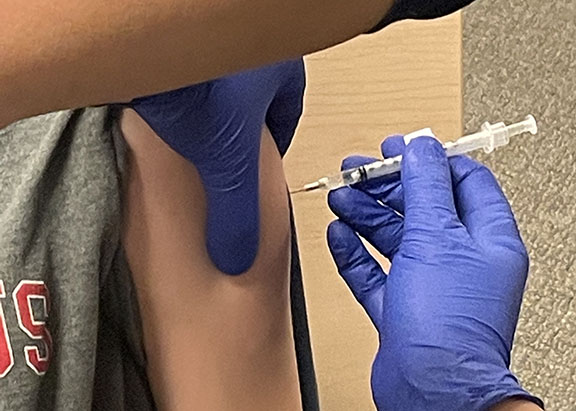 The newly approved 5-11 year-old Pfizer vaccine was announced by the Food and Drug Administration on October 29, 2021. Many middle schoolers have been wondering how helpful the vaccine is and what long-term side effects there may be, and how dangerous COVID-19 is.
Here are FAQs to answer some questions.
Q: How effective is the Pfizer 5-11 vaccine?
A: According to Yale Medicine, Pfizer's original trial with 2,268 children showed the vaccine to be 90.7 percent effective.
Q: What are some of the worst dangers of getting COVID-19?
A: Getting myocarditis. Myocarditis can cause heart inflammation, and in rare, extreme cases weaken the heart and sometimes lead to heart failure. Myocarditis is found most commonly in teenage boys. The 5-11 Pfizer vaccine can also cause myocarditis, but it is significantly less likely to cause myocarditis than COVID-19, said Dr. Jennifer Gruen, pediatrician who helped with the vaccination clinic at Staples High School.
No one in the 5-11 range has gotten myocarditis from the vaccine, but Dr. Gruen says it is theoretically possible.
Q: How safe is the vaccine?
A: According to the US Food and Drug Administration, in a study with approximately 3,100 children aged 5-11, the children received the vaccine and no serious side effects were detected in the ongoing study.
Q: How many people in the 5-11 age range have died from Covid-19?
A: According to NPR, at least 172 children from 5-11 years old have died from Covid-19.
Q: How many cases of Covid-19 can the 5-11 vaccine prevent in a year?
A: According to ABC News, the FDA assembled six models considering the risks and benefits of the 5-11 Pfizer vaccine. In three of these models, the FDA projected that 1 million vaccines among 5-11 year-olds would prevent 45,773 COVID infections in just half a year. In other words, a million vaccines among 5-11 year-olds would prevent 91,546 cases in a year.