Getting Sports Equipment Becomes a Competition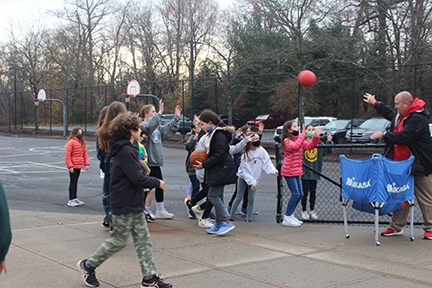 Twenty students run up to get playground balls, and the moment they reach the blacktop, all the playground equipment is gone, leaving them with nothing.
"I don't want to sit in a classroom for seven hours, and when I get to recess, all of the balls are gone," said sixth-grader Jack McAuly.
Do we need more playground balls? During recess, the playground balls can be in short supply.
Recess is quality time for students to get their energy out, and when students do, it has positive effects. The Australian Associated Press says "Recess is a necessary break in the day for optimizing a child's social, emotional, physical, and cognitive development."
"If we get more playground balls," said Jack, "there will be less stealing and fewer fights over the equipment." Jack is saying that with the lack of playground balls we have, people are willing to argue for the balls. He is suggesting a solution to this problem.
Recess/lunch is the period most kids look forward to. According to an informal 6th grade Purple Pod poll, 69 percent of people polled said that recess/lunch is their favorite period.
In BMS, many students are volunteering to have a second lunch, but why? The majority of these kids really don't like recess because there was nothing to do, but that can be a problem.
People think that there is never enough equipment, but principal Dr. Adam Rosen points out the efforts the school puts forward to help recess play while maintaining safety.
"We continually lose recess balls over time due to a number of reasons (lost, rolled down a hill, stuck in a tree, etc.) We continually refill the recess ball hopper each week to keep the set full, which is five playground balls (one for each 4-square court) and four basketballs (one for each basketball court). This provides plenty of opportunities for kids to get involved in games without having too many playground balls or basketballs flying about.
"In the past, we've had more in the hopper, which led to students getting hit in the head with excess recess equipment," said Dr. Rosen.
He said that he checks the hopper every Monday; and when he sees fewer than the set of 11, he replaces what's missing.
He also reported that there are funds for the equipment is needed and no extra help from the PTA is needed.
Here are a couple of reasons why recess is so important. Recess is a break that kids get to have, taking them away from their challenging academic courses. This break can help them focus more while they are in class.
Because of the pandemic, students have to wear masks in school. Wearing a mask for that long can be tiring and this mask break can be very helpful.
"To finally be able to take off my mask is great!" said JJ Nielson, "But I have to push and shove, just for a playground ball." We might not have as many as we think we have, but the school is buying the playground equipment, it's just that the students are losing it.