First Days of School Look a lot like the Last Days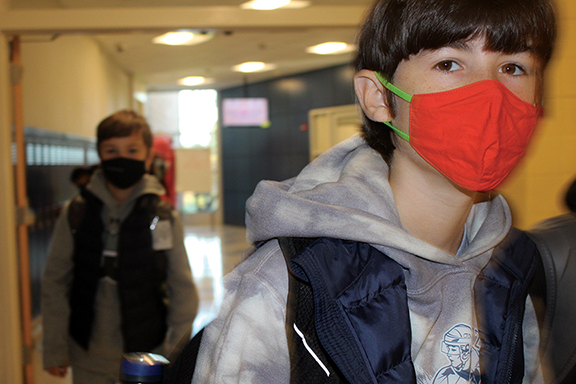 Ever since March 2020, we have been hiding in our houses, afraid of the deadly coronavirus. Now, places are opening up. We aren't doing Zoom lessons anymore. Instead, we are at school!
But what about the Delta variant?
"This is not how we were planning to go back to school," said Alyssa Bilinski, a public-health researcher at Brown University in an "Atlantic "article.
"Cases dropped to an all-time national low in June, and things looked good—until Delta," she added.
At BMS, many of the precautions from last year have stayed the same. Students are still wearing masks, they still need to social distance, and they still have lunch with just a few, four at the most, people.
Here is why the school is are required to follow many of the precautions from last year:
According to the "Atlantic," the Delta variant was first identified in India in December 2020. From there, Delta swept rapidly through India and Great Britain before reaching the United States.
The Delta variant is a mutated form of the SARS virus, which was COVID in 2002. Delta is one of the many variants of COVID. It is "60 percent more transmissible than the first variant Alpha, " according to Timothée Bruel, Etienne Simon-Lorière, Felix A. Rey, and Olivier Schwartz at the science journal "Nature."
Most Delta cases occur among people who are not vaccinated, but the variant is still transmissible through fully vaccinated people.
A common question is, "Does the vaccine work on the Delta strain?" The answer is it helps, but not always.
"So I got a needle in my arm for nothing?" questions Jack McAuley, a 6th grader from the purple pod. The COVID-19 vaccine mostly prevents severe disease and death, but it can't completely protect you from the Delta variant.
"As long as you're going with your precautions, you should be fine," believes Alex Benke, a 6th grader from the purple pod. Nikhil Bhadra agrees with him, but warns, "This virus is dangerous, for everybody."
This means that it is still recommended to continue following the same COVID precautions as last year.