Westport Teachers Get Vaccinated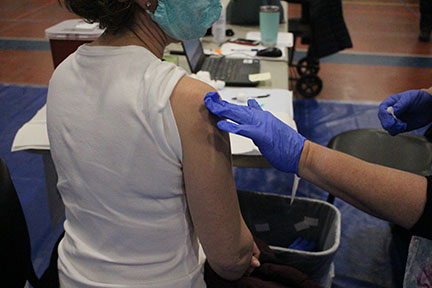 On February, 18, Connecticut Governor Ned Lamont added educators to the list of front-line workers for receiving vaccinations. Teachers, staff and people aged 54 and older are now eligible for the COVID-19 vaccine. What is happening in Westport? Why does this matter to students?
"It is important for Bedford teachers to get the vaccine," said Bedford school nurse Carmel Keaveney, "as this can decrease their chances of them getting very sick from COVID-19 as well as help slow down the spread of the disease."
The average Connecticut teacher is 43.4 years old, according to the National Center for Education Statistics.
According to the Centers for Disease Control, a 43 year-old has twice as much risk for getting COVID-19 as a middle schooler. A 43 year-old has 15 times the chance of hospitalization as a middle schooler, and has 400 times the chance of death compared to a middle schooler.
Teachers' unions have been disappointed and surprised that it has taken 78 days for Connecticut teachers and staff to be able to get the vaccine.
There are several locations in Westport that offer the COVID-19 vaccine, including the Westport Police Department, Saugatuck Congregational Church, Westport Community Kitchen and Staples High School.
The Bedford population's state of mind will only improve with this vaccine, believes Mrs. Keaveny. "The teacher vaccination will impact the Bedford population by helping staff and students feel safer that COVID-19 has less of a chance of being spread to students or other staff members."