Joe Biden is now our President: A Successful Inauguration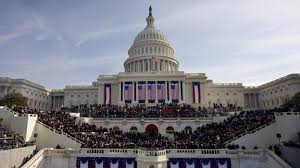 This morning, previous President Donald Trump left the White House for the final time as he flew to his own "Departure Ceremony," leaving the president's home to now President Joseph Biden.
After receiving a 21-gun salute, President Trump called his presidency "something very special," and told his fans "[he] will always fight for [them]."
Meanwhile, Joe Biden and Kamala Harris were getting ready to take the honor of becoming President and Vice President of the United States.
The Inauguration Ceremony at the Capitol was filled with performances by Jennifer Lopez and the 22-year old inaugural poem reader, Amanda Gorman. These performances, however, were not to the usually large in-person inaugural audiences of year's past. Almost all viewers of the inauguration were watching it on their TV.
The inauguration had heavy security because the hundreds of thousands of people who would normally attend the inauguration could risk COVID-19 exposure. Also, after the riot on Capitol Hill a few weeks ago, there was fear of more violence against the new President Biden. Many of the speeches at the ceremony had to do with these unprecedented attacks at the Capitol.
After taking the Oath of Office, President Biden gave his Inaugural address, encouraging unity in the country. "Unity is the path forward. And we must meet this moment as the United States of America," said the new president.
According to BMS social studies teacher Mrs. Gabrielle Tripuzzi, this inaugural address is the most important part of the inauguration ceremony. "The speech sets [the president's] intentions for their presidential term and can provide the American people with much-needed assurance and confidence in the next four years."