Joe Biden Wins White House After Gaining Pennsylvania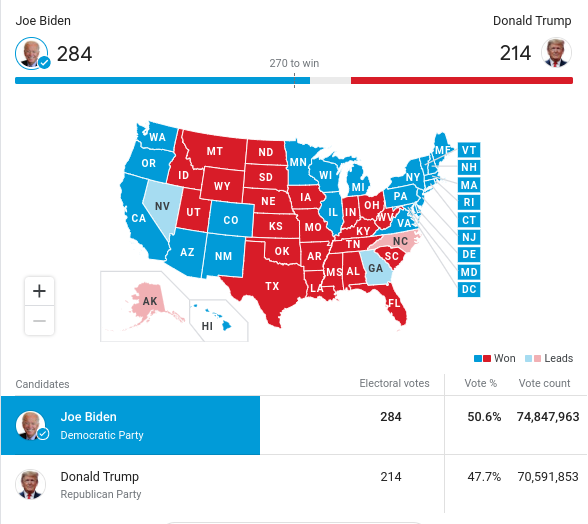 As of approximately 11:29 A.M on November 7, it was announced that presidential election candidate Joe Biden has defeated President Trump. Biden surpassed the 270 electoral vote count with 284 votes by gaining Pennsylvania according to the Associated Press. Pennsylvania is still counting votes, but it is said that any votes that are still coming in, will most likely be towards Biden. Even if more votes go to President Trump, it is thought that it won't make a difference at this point. 
"I am honored and humbled by the trust the American people have placed in me and in Vice President-elect Harris. In the face of unprecedented obstacles, a record number of Americans voted. Proving once again, that democracy beats deep in the heart of America. With the campaign over, it's time to put the anger and the harsh rhetoric behind us and come together as a nation. It's time for America to unite. And to heal. We are the United States of America. And there's nothing we can't do if we do it together," said President-elect Biden.
Donald Trump in response said, "This election is far from over. Joe Biden has not been certified as the winner of any states, let alone any of the highly contested states headed for mandatory recounts, or states where our campaign has valid and legitimate legal challenges that could determine the ultimate victor."