Board of Ed Delays Redistricting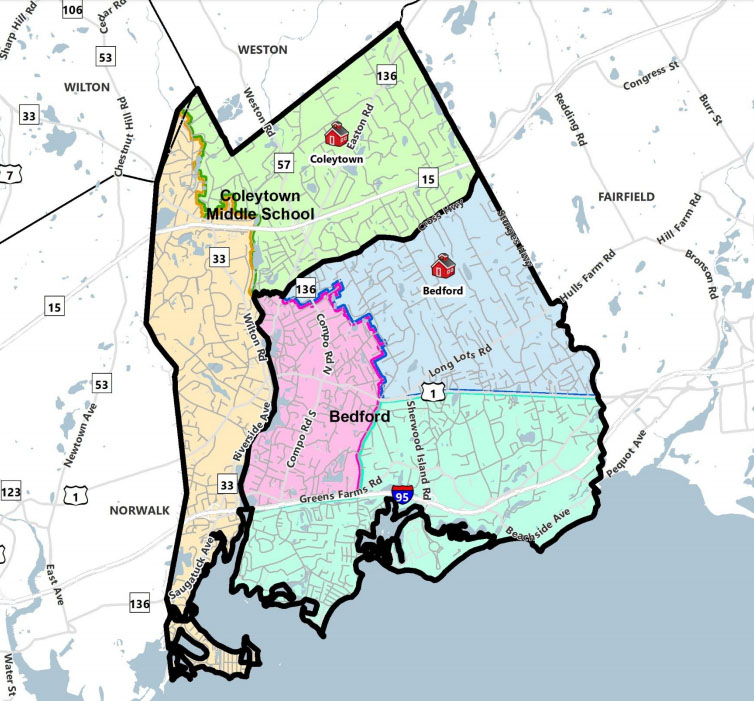 It's seven o'clock at night and the team of district administrators and elected members of the Westport Board of Education are gathered in Cafeteria B of Staples High School.
It is up to the Board of Education, consultants, school administrators and the Westport public to decide the future of Westport middle schools.
Following the temporary merge between Coleytown Middle School and Bedford Middle School, the Westport Public School system has decided to analyze the potential of several different options to "redistrict," or redistribute students between schools.
This initiative is due to several different issues recognized by the WPS, including the possibility of unequal learning experiences between the two middle schools.
During their meeting on Dec. 4, 2019, the Board established that no redistricting measures would be taken for the 2020-2021 school year, and implied that no action would likely be taken for the next two years either.
A main option investigated by the Board was the institution of a split feeder system in an elementary school. This would mean that a percentage of 5th graders from a particular elementary school go to CMS, while the other students go to BMS. Which middle school a 5th grader goes to is determined based on where in the district they live.
On the Nov. 19 Board meeting, Patrick Gallagher, a consultant from the agency Milone and McBroom, proposed Saugatuck Elementary as the most likely to be split between BMS and CMS. According to Mr. Gallagher, the main reason is geographic: "There's no other area than northern Saugatuck that's closer to CMS."
As of now, BMS has 65 percent of students in Westport, while CMS has the other 35 percent. By making these numbers more equal with a split-feeder system, the Board hopes to ensure a more balanced attendance between the two schools, and thus a similar educational experience.
Mr. Gallagher put forward two different options for splitting Saugatuck: the first would involve 55 percent of 5th graders at CMS and 44 percent of them at BMS, while the second split would lead to 62 percent of 5th graders at CMS and 38 percent of them at BMS.
During the time allotted by the Board for public comment, listeners presented very different perspectives.
"I want everyone to keep in mind the impact it would take on the children between fifth and sixth grade," said Phil Bancroft.
A parent named Donald Grille pointed out, "It feels a little disingenuous to present only Saugatuck as the only split feeder," he said in his public comment. Later in his speech, Mr. Grille presented another point. "Can we not treat this as a force for reacting to, but something we have some control over?" The point remains poignant as the Board creates clearer resolutions and timeliness for its next steps forwards.