Portables Wheel in for Next Year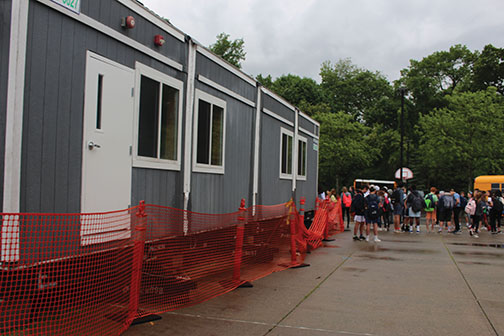 This year was a whirlwind for returning and new Bedford students alike, due mostly to the merge with Coleytown. With this year pretty much in the books, many kids are looking at the upcoming school year with a lot of uncertainty. With the questions surrounding the full integration of students from both schools, how will life for us students change?
To start, there will be portables. According to Dr. Rosen, the portables will probably be used for health classes and some world language classes. This means that kids may have to take a walk outside to get to their Spanish, French, Mandarin, and health sessions. Luckily, this situation was mentioned in one of the past school board meetings, and the portables, if at all used, will be conveniently located right outside the entrances and exits of our building.
Secondly, class roster sizes will be evened out, as it was recognized by teachers and parents alike that there was a discrepancy between the numbers of kids in Coleytown classes, which were as little as 17, and the Bedford classes, which are sometimes as large as 25. Dr Rosen said that, "Classes next year will be well balanced because we are combining the two student populations, BMS and CMS, into one student population. We anticipate most core classes between 22-23 students." In short, the two student bodies, which were initially kept separate after the merge, will be intermixed in classes and pods in order to create equilibrium in class size.
Also, there will be some pretty drastic changes in the routines of the eighth graders. For example, they will be given the half-size lockers that can be found in the hallways adjacent to the main office and on the wall, perpendicular to the orchestra practice rooms. Although these areas are considerably hard to reach, the oldest kids in school don't have to fret; they'll be able to carry their backpacks around with them, so stops at the remote locations of the lockers will be minimal for them.
So, this upcoming year will be pretty interesting as to how a school with 1,300 students will adapt to this new situation.