NHD Team Competes at Finals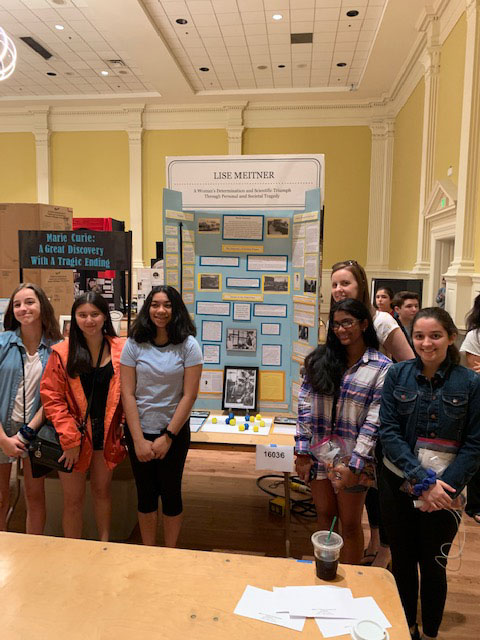 Eighth graders willing and ready to put their history skills to the test by creating documentaries, websites, or projects have returned from their final stage of competition.
The 2019 NHD Nationals Competition was held on June 9 through the 13th at the University of Maryland. The students are awaiting the judges' results which will be live streamed most likely as the students are in their Moving Up ceremony.
Nationals culminates a school year of work. Every year NHD picks a theme for the students to explore, and this year it was "triumph and tragedy."
"To every moment in history there is a good side and a bad side, and the presentations were to showcase these two sides," said Rhea Choudhury.
They stayed at a hotel for three days while competing and when not doing presenting, they got ready for end-of-the-year tests. "We spent a lot of our time studying for our finals. It wasn't a vacation, but it was fun working so hard," said Mallika Subramanian.
Their project focused on scientist Lise Meitner and how she did not receive recognition for her collaborative work on nuclear fission.
The club is run by 8th grade social studies teacher Caroline Davis.
"Ms. Davis helped us with our organization, but she really let us work things out for ourselves and as a group.
Ms. Davis will be watching the live-stream of the results. You can find out how they did by going to ursus.news for the latest in NHD results.
Correction:  This article has been corrected to read that Lise Meitner did not receive credit for her work in nuclear fission, not fusion as it had appeared int he print addition.