Breaking News: Lockers Installed For Coleytown Students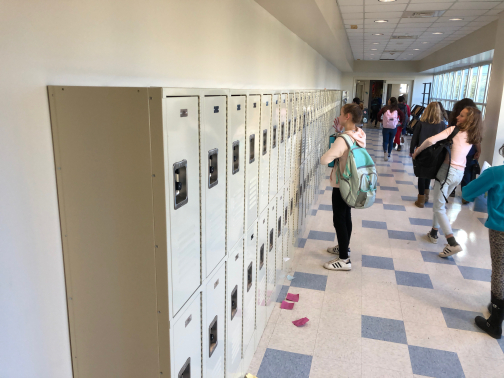 Hang on for a minute...we're trying to find some more stories you might like.
With the addition of Coleytown Middle School students to the Bedford building, the building was reorganized to accommodate classes for both school's students. After some tinkering, that was sorted out. However, one issue remained: Where would the Coleytown students put their belongings?
Lockers are the solution, but Bedford doesn't have enough lockers for everyone. "300 lockers have been installed for the Coleytown students," said Dr. Adam Rosen, the Bedford principal when asked what the solution would be. "They have been installed along the auditorium hallway, and in the hallway near room 286 [orchestra/band room] and the library hallway against the frosted glass."
Dr. Rosen also added that the planned completion for the locker installation was November 5th and that the lockers were installed in a different way compared to the regular Bedford lockers. "The lockers, instead of being installed vertically like the Bedford lockers, they have installed horizontally," he said. He said they also will be shorter and taller. So, there can be two lockers on top of each other while being most efficient with space.
The lockers were also strategically placed so that the Coleytown students have the most efficient location to go and put away their supplies. "We [the administration] believe that is the ideal location because of the convenience factor and the fact that there wasn't really a good place to put them anywhere else." Dr. Rosen said. The cost and installers of the lockers is unknown as it was a district purchase according to Dr. Rosen.
The lockers give them a place to put their stuff rather than carry around a heavy backpack with them and especially with the upcoming winter, more jacket and scarves and hats will be brought in, and the locker is a good place to store that stuff during the day.
With coming weather and the situation that the schools are in, the lockers are a much needed investment.