Library Transformation on Schedule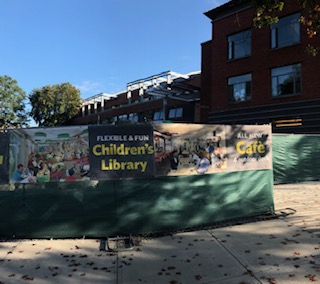 Hang on for a minute...we're trying to find some more stories you might like.
The Westport Library has a long and interesting past.  It was founded on February 4, 1886. The Library is devoted to enhancing the community. Throughout the years it has increased its volumes and budget.  The Westport Public Library has also become a lot more sophisticated.
When years, decades, and centuries passed, it couldn't fulfill its cause as much because there was a lack of adaptation in the library to the advancing world around us, so it is having a renovation.
The transformation project started in September, 2017
On June 4, the library opened the new Riverwalk level. The old Riverwalk level has been completely redesigned. It is now light, airy, dynamic and interactive.
On July 13, 2018, the Children's section of the library announced that from now on it would be called the "Roz and Bud Siegel Family Children's Library" because of the generous donation that they gave to the library.
The Westport Public Library has become one of the most significant tourist places in Westport.
A goal of this transformation is to have a space fitting for all different sorts of circumstances needed in the community. The new space will be unique because it allows people to have an everlasting flexibility of space. The Westport Public Library's mission is to bring more knowledge and curiosity to the community, while strengthening it to open up more sophisticated ideas.
Some events that the Westport Public Library hosts is the Maker Faire, Family Movie Afternoon, book bales, and workshops for all different school-aged children. As a result, the Westport Public Library continues to be one of the most renowned libraries in Fairfield County.
An interview with a staff member of the library staff, who only wanted to be identified by her first name, is Melanie.  She said that the library is very focused on making sure that everyone feels content and comfortable every time they go to the library.
Q: What is your opinion on the library's renovation?
A: I am super excited for this renovation project. I think it's going to be a really, really, fun, new use of space and I think we're all pretty excited to see it come through.
Q: Approximately how long do you think this project will take?
A: It is estimated to be finished by next summer. Right now our ETA is Junish.
Q: What concerns do you have about the transformation?
A: Nothing especially stands out we just want to make sure we have everything for everybody.
Q: Are there any concerns about the timing?
A: No, actually so far they've been pretty on point with the estimations.
Q: What parts of the library will benefit from the renovation the most?
A: I think that they are focused on renovating everything pretty equaling. The Makerspace will get nice new equipment and a special area. Our programming space is going to be absolutely wonderful. But our children's department got a complete renovation as well. They're trying to make sure we have a piece of the library for every person that wants it.
Q: Are there going to be classrooms that people can rent like before?
A: Yes, we originally only had 3 meeting rooms that you can check out, I think we've gone up to 12 or 17 or some really big number like that. The ultimate goal is that we have a pretty flexible space that can be used to do whatever we want to do.
Q: What changes are harder to adapt to?
A: I think the biggest change over the transformation project for everybody is moving down here to the smaller space, and again that's probably the thing everybody has had the hardest time adapting to as were waiting for our big unveiling in June.
Q: Do you know how much bigger the library will get after the transformation project?
A: We're actually pretty much staying in the same footprint, its not changing, we're just using the space differently so its more efficient.
Q: Has the number of books been affected by the transformation project?
A: We did have to put a lot of our books in storage while were doing the renovation. You can see right now we don't have a ton of books, but a lot of them are in our storage facility.
Q: What do you feel about the ceiling and the theme colors?
A: The intention behind the ceiling is openness and transparency, so it's a very industrial feel, so that people can see through. I don't think I have a strong opinion about the theme colors. The cool thing about colors is that you can paint over them if you choose you want something different in five or 10 years.
Q: Has the resources been affected by the renovation?
A: We plan on offering the same services as before and resources, maybe in different formats, like maybe instead of desktop computers, we'll have a bunch of laptops.
A: I'm really excited about the deck on the cafe. What I really like is that they've opened up this area (the river area) so you can see the river, I think that's really nice so that you can just sit and relax with a book and stare at the pretty scene.