Many Benefit From Coin War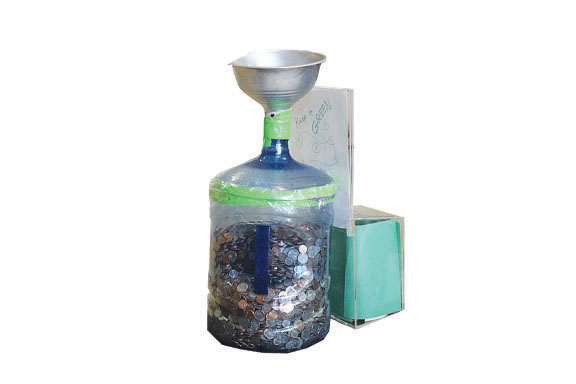 Hang on for a minute...we're trying to find some more stories you might like.
The 2017 Coin War champion was the Green Team, with a grand total of -55,185 points, surpassing the Red Team by 32,525 points and the Purple Team by 65,714 points. Regardless of the victor, the Coin Wars was an exciting and memorable experience for all 8th graders, raising a total of $6,826.64.
Every year during the week before Thanksgiving, BMS 8th graders partake in a week of fundraising for the Westport Department of Human Services in Town Hall. Formerly known as Penny Wars, the event was switched to the Coin Wars this year, the 14th year of the event.
Instead of striving to collect the most pennies for their team and "bombing," or having values subtracted from, the other teams with other coins and dollars, this year students collected dollars for their own teams and bombed their competitors with nickels, dimes, and quarters. The usual system was altered due to the burdensome number of pennies collected in previous years and the difficulties that arise with transporting the heavy pennies and finding a bank to count them.
To show support for their team, students from every pod dressed up in a different team themes. Black Out, Red White and Blue, Pajama Day and Twin Day dress could be seen all around the hallways of Bedford.
"There has been a good amount of spirit which has been obvious from the effort that has gone into dressing up each of the spirit days. I think the Coin Wars are something good that we can do for the community, but I also think it brings each team together and gives them a common purpose," said Mr. Kevin Cuccaro, an 8th grade math teacher at Bedford and the organizer of the Coin Wars event.
Each day prior to the start of homeroom and during lunch, bins were filled up with dollars and jugs filled coins as pods competed in the annual event..
Not only did Green win, they also demonstrated the most organized spirit with "Mighty, Mighty Green Team" chants and staged dances inspired by "Remember the Titans."
In addition to the excitement it brought, the Coin Wars greatly benefited its participants.
"It can give students the opportunity to give back to the community and feel part of something bigger than just a classroom activity. I think the Coin Wars offers a chance for all students to be involved, whether you donate a dollar or a hundred, every little bit helps and it's only successful if the entire grade feels like they can participate," said Mr. Cuccaro.
While the Coin Wars was a great experience that built collaboration and spirit in the pods, it is essential to remember where the donated money goes to, and the people it helps.
"All the donations go to the Westport Department of Human Services at Town Hall. We work with families in Westport who have financial troubles, are ill, or lost their jobs. Every penny is used to buy gifts for the holiday season for clients of the department," said Mrs. Patty Haberstroh, a guest speaker from the Human Services organization who spoke to the 8th graders the Friday before the week of the Coin Wars.
The record number of people helped occurred last year, at 414 Westport citizens, as well as families whose children attend Westport schools, and sometimes senior citizens in town who are alone for the holidays.
"Our organization gives a happy holiday season to people where the parents have been worried that they won't be able to buy anything for their kids. I really appreciate the spirit of giving to those less fortunate that is shown throughout the Coin Wars," said Mrs. Haberstroh.
But while the intention of the Coin Wars is a great one, there have been discussions regarding the specific method of fundraising. Some believe it would be better to raise money through activities that are more beneficial to students and help them set and achieve goals, such doing community service to raise money.
However, the common opinion seems to be that the Coin Wars is the better alternative.
"I prefer Coin Wars because it involves the entire grade, instead of just optional participants, and I feel like you can't force people to do most other types of events, and not a lot of people would," said 8th grader Leah Chapman.
"I think it depends on what kind of person you are, and some people may be too busy," said Jane Cheema, a student in the 8th grade.
"I think the Coin Wars is better because it's fun and gives people a lot of spirit," said Oliver Clacko, an 8th grade student.
Olivia Marshall, an 8th grader, adds, "It also depends on what your interests are. I like running, for example, so I'd love to run a race to raise money instead."
"It's better if students set and achieve goals, but it's equal in the sense that, either way, you are helping and doing something charitable," said Annabelle Harr, a student in the 8th grade.
Mr. Cuccaro's response to the discussion is positive for the Coin Wars, "While I think students should look for additional opportunities to be an active participant in supporting those in need, I think the competitive spirit and the enthusiasm of the student body lead to an extremely successful fundraising initiative. I've never seen another type of fundraiser generate the amount of funds that the Coin War has done."