Yellow: Is it Just Tinder for Kids?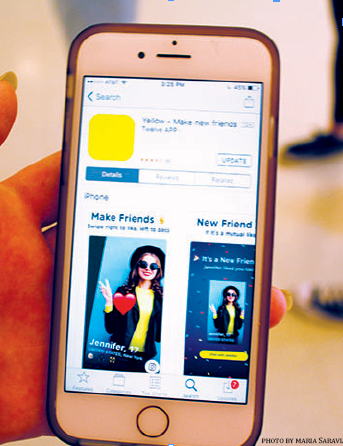 Hang on for a minute...we're trying to find some more stories you might like.
A new social media craze has taken kids age 12 through 17 by storm.
Yellow was released for free download on January 21, 2017.
In middle schools, this app is mostly being used by seventh and eighth graders. Teenagers of this age group can make an account with their name, age, picture, gender, and their town in order to meet new people online. Teens can list their preferred distance and are then shown teens who are nearby. The teen could then swipe right or swipe left depending on if they like the person's profile picture. If one "matches" with someone else, they could then talk to them and add them on their other social media accounts.
"It seems like one of those silly social media things teens are going to obsess over, but I also think that it's kind of dangerous too," said health teacher Don Savage.
When you look at Yellow on the app store, it includes "make new friends" in the title. This leads some to believe that kids would only use this platform to make friends. However, inappropriate language has been reported on multiple accounts. The app has been reportedly used in order to get more views on Snapchat, gain Instagram followers, make friends, and in some cases sext explicit content.
"I've definitely heard of kids using the app in order to add each other on Snapchat in order to send pictures," said eighth grader Maya Sampath.
There are worries of predators making accounts on this app and teenagers getting themselves into unsafe situations. "It's concerning on the level that you never know whom you are communicating with. I always just worry about anything that can expose you to people who do not have your best interests at heart," said school counselor Charna Silverman.
Many kids just want to make friends. Others want to find dates. Although, for the kids who choose to use this app, things like meeting dangerous people is a major concern.