Same Game, New Beginning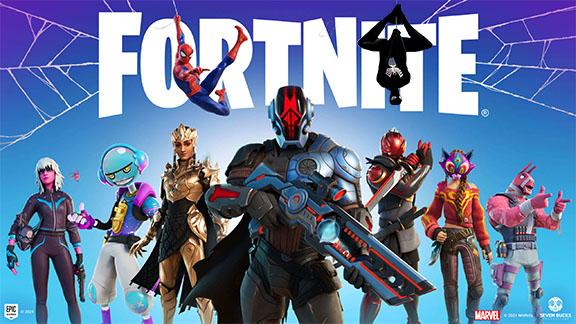 Fortnite, the competitive PVP battle royale game that recently brought a brand new chapter introducing a thrilling new map and gameplay, ended its second chapter in December with roughly 6 to 8 million players and started 2022 with 12 million players.
This new chapter introduces multiple new weapons and locations and has brought a lot of excitement to this nearly five-year-old game.
The newest thing that got fans excited is the release of the Spider-Man Mythic weapons. The mythic weapons give the player the ability to swing from trees and buildings. Epic Games also introduced new weapons like the Ranger Assault Rifle, Striker Pump shotgun, Stinger SMG and many more. An even more recent update includes natural disasters like tornadoes and shocking lightning storms. New locations that have been added are Chonker's Speedway, Rocky Reels, Sleepy Sound, and three old locations from Chapter 1 named Shifty Shafts, Tilted Towers, and Greasy Grove.
The third year of Winterfest has just ended. In this event, each day a player can unlock different presents and get special prizes, ranging from gliders to skins to loading screens. The new Chapter Three battle pass has introduced new skins, pickaxes and gliders. One of these skins is the well-known Spider-Man. You can do challenges that get your tier higher and higher. To get Spider-Man and other skins in the pass, you need to use your battle stars and buy different styles and other additions in the pass.
Also new is Klombo, the monster that roams the map. When you give this monster Klombo Berries, it becomes happy and sometimes gives you loot. But if you shoot Klombo, he chases you and shoots fiery rocks that do tons of damage. Fortnite fans are intrigued and excited by this new fun NPC (Non-Playable Character).
Eliza Greenspan, a 7th-grade student at BMS, explains why she is excited for Chapter Three. "The things I'm most excited about is the Spider Mythic, the new map and the new sliding mechanic."
The slide mechanic is in its name: slide down mountains or roads while attacking the enemy. This mechanic puts a whole new perspective on how the game runs. Fortnite's other two game modes are Save the World and Creative. In Save the World, you collect weapons and use them to fight zombies and save people. There are over 250 weapons to discover. You also build a base and you use its storm shield to defeat the zombies and push them back for good. This is also multiplayer, and your friends can join you to protect your base from the zombies.
Creative is a game mode where you can build anything you want. You can choose any weapon, building, even different types of lights. You can also make music by using different types of piano keys, and they can make some of your favorite songs.
Fortnite has certainly given its fans a lot to experience and discover through this new chapter.
Fortnite builds upon its successful history and gives players even more to enjoy with creative and entertaining modes of competitive battle royale.