At BMS, the Show is Off But the Acting Goes on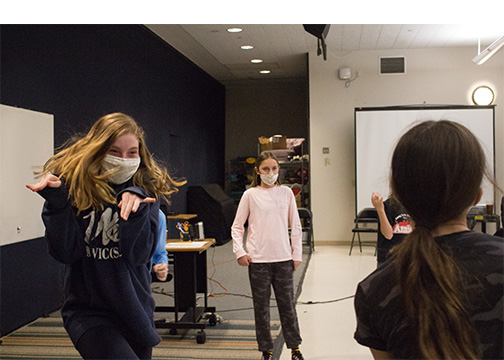 Because of COVID, this year's rising actors are not able to perform a production at BMS. However, the dilemma has not stopped Mrs. Karen McCormick, the director of the theater program at BMS, from embracing our acting culture.
She has launched the new, virtual, acting workshop which features a collection of eight songs, 20 monologues, and one scene for the different students. This production is available to 6th, 7th, and 8th graders to participate in. The students were vocally coached by adults, including several successful actors. They practiced their parts and played theater games after school for several rehearsals.
The workshop was first opened in February and has gained popularity recently. This is a great opportunity for students to gain more acting experience while being creative and productive after school.
The students in the workshop film their work, and it will be made public in mid or late May. There are certain advantages to filming a performance: a film is more forgiving. If a student forgets his or her lines, or sings a song off-key, the actor can do a re-take.
According to Mrs. McCormick, this program was originally designed for students who were more interested in acting, not singing or dancing.
It was originally designed for 7th grade and 8th grade only. However, because of COVID-19, this year they added the 6th grade. Usually this event would take place in the theater room, otherwise known as the "black box theatre." This is a good opportunity for kids who are hesitant to sing or people who do not normally get big parts. In this production, they are given the chance to perform smaller monologues.
This is a school event, however the kids are mostly independent. They are in charge of props and costumes, and due to COVID restrictions, this was rehearsed completely online. Students met with coaches over zoom for at least three times over the course of the whole production time.
"It was better than nothing! The kids really liked the experience of working with more experienced people, said Mrs. McCormick on her thoughts about how COVID has impacted the theater experience. "As a coach, it is usually harder to help on Zoom, but it is very easy since there was a small group. But it was hard not see them in-person.
So far, our life has changed dramatically due to the pandemic. We went through lockdowns, social distancing, plastic shields, and hybrid learning, not to mention Zooming. It is incredible that Bedford's own students are able to push through these restrictions to create a one-of-a-kind performance. They are resilient, and this goes to show how we can handle anything.
Overall, the acting program has gone through numerous setbacks, but they were able to pull through.
As they say in the theater, "The show must go on!"