Bedford is Into 'Into the Woods'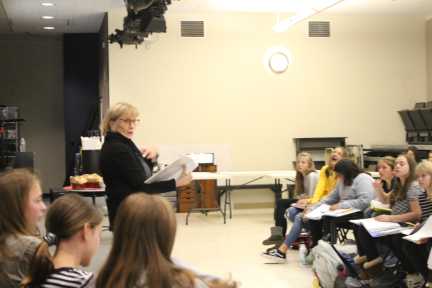 Hang on for a minute...we're trying to find some more stories you might like.
This year, the seventh and eighth graders at Bedford will perform a musical directed by Mrs. Karen McCormick. This year, the Bedford Acting group will showcase "Into the Woods" and its iconic music by the renowned playwright Stephen Sondheim on Thursday, November 30 through Saturday, December 1.
The story follows a baker and his wife, who wish to have a baby. A witch tells them to go into the woods to collect certain magical items, which will grant them their wish; there, their path collides with Cinderella, Little Red Riding Hood, Jack from "Jack and the Beanstalk", and a multitude of other fairy tale characters.
However, the original Into the Woods doesn't end happily, with darker, more mature themes throughout its second act. Thus, they have opted to use the ever-popular Into the Woods, Jr. script.
Bedford's edition has added an abundance of characters and scenes, as a result of the number of people who auditioned. Characters such as Snow White and Sleeping Beauty do not appear in the original, but are examples of characters added so there could be more parts.
"Around 85 people auditioned, so we had to double cast many parts, and add some too. There's just so much talent," said Mrs. McCormick.
The musical presents many performance challenges, but it turns out that the music might be the greatest. "We used most of the songs from the original, so there's a lot of complicated music. The acting, though, isn't too difficult. The students are doing a great job so far," Mrs. McCormick added.
The songs are particularly famous amongst the musical theatre community, including titles such as Into the Woods, Agony, and It Takes Two [linked to videos].  
"The music is hard, but it's all really fun and exciting," said Quinn Mulvey, an eighth grader who plays the Witch and has performed at Bedford over the past two years.
Harrison Browne, a seventh grader who plays the Steward, agreed, saying, "It can be challenging, but I really enjoy the whole experience."
Another problem that has arisen involves the preparation and scheduling issues. The performances are pushed one day earlier, onto the Thursday night, because Hanukkah takes place on the Sunday. Mrs. McCormick also noted that it has been difficult to work on the stage, as a result of the Coleytown-Bedford merging.
After everyone's hard work, the show will certainly be full of the excitement and passion that has made Bedford Acting Group a true pleasure to watch each year. Bedford Acting Group's website is listed here, and it will be updated when tickets are available: http://www.bedfordactinggroup.com/Home.html.