More Marvel Heroes Create Marvelous Movie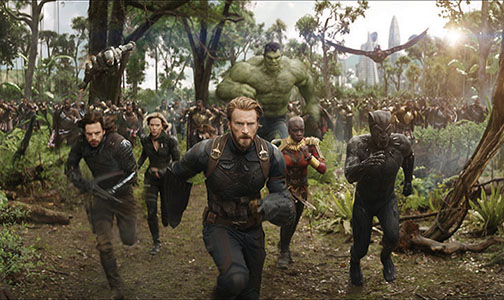 Hang on for a minute...we're trying to find some more stories you might like.
The Avengers must face their biggest opponent yet: Thanos. He's the villan in the upcoming movie "Avengers: Infinity War."
Once all of the Infinity Stones–you saw them in the Gaurdains of the Galaxy–are together, whoever possesses them gains unlimited power.
This is the goal of Thanos, the film's antagonist. As the fate of existence rests on The Avengers, they must defy all odds and rescue the world.
As a result of its thrilling action sequences, suspenseful plotlines, and thoughtful character development, "Avengers: Infinity War" is quite popular amongst students at Bedford.
In particular, the inclusion of all of the superheroes accumulated across the 18 movies and 10 years is especially appealing to many.
"I'm mainly excited [for the movie] because it's a crossover of every Marvel set," says Alex Pirkl, an eighth grader and avid fan of the MCU. "You've got all the heroes packed in to take on Thanos."
Marvel, as a whole, is an expert at creating suspense and exciting fans with every film. This is partly due to its electrifying action between characters, which is another plus for middle schoolers. Alex noted, "No one watched 'Black Panther' to learn his regularly balanced diet. They liked it when he hit [the villain]."
However, not everyone is excited for the film. One reason, contrary to the anticipation from the overload of information throughout the years, is that it's difficult to catch up. "It's hard to watch a Marvel movie if you haven't seen all the ones that came before it," Emma Losonczy, a seventh grader, remarked. She continued, "Since I've never really seen any except for 'Spider-man', I'm not that excited for the new movie."
Still, as you walk by the Infinity War poster propped up towards the end of the Bowtie Cinemas Theatre on Westport Avenue, it carries an undeniable intensity – and, to some, an additional mass of anticipation and excitement. On April 27, we'll all see how the fate of the MCU will unravel.