Students Get a Glimpse into Musical Creativity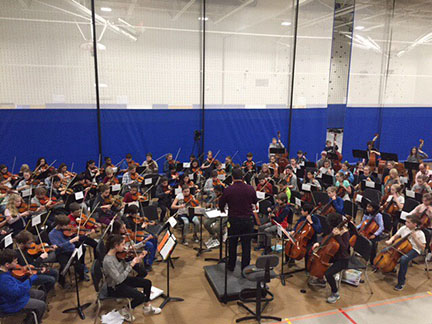 Hang on for a minute...we're trying to find some more stories you might like.
It's not everyday that a well-known musical composer comes to school to share his life experiences and work with the school's orchestra.
Orchestra students from all grades were taken out of some of their classes to meet with Sean O'Loughlin and work with him as a conductor for a rehearsal on March 19. "I started out playing trumpet in middle school, and now I'm here doing all kinds of crazy things," O'Loughlin said when speaking to the orchestra students.
What kind of crazy things is he up to? Well, coming to Bedford Middle School, of course. Prior to O'Loughlin visiting the school, Dr. Colleen Palmer, the superintendent of the Westport school district, had funds available for classes to try different, unique things, creating a new, creative opportunity. Bedford's orchestra had played Sean O'Loughlin's pieces in the past, giving orchestra directors Michele Anderson and Anthony Granata the idea to work with him personally. The music department agreed that it would be a great idea to contact O'Loughlin and invite him to compose pieces for Bedford.
He had worked with the BMS orchestra students to create three music pieces, one for each grade. These are official pieces that Bedford's
"
"I started out playing trumpet in middle school, and now I'm here doing all kinds of crazy things.""
— Sean O'Loughlin
orchestra will be playing, and they will be published and sold globally. BMS music teachers point out how important such a moment is for the school because they get to work with a professional composer, and the orchestra gets to have pieces created with their own ideas and contributions.
Each grade's orchestra got their own rehearsal time on that Monday, working with O'Loughlin on the individual pieces. Then, for the last period of the day, the orchestra students from all three grades gathered to perform their pieces in an informal concert. This meant that the orchestra would perform, but they wouldn't be dressed formally or go through the normal concert procedure.
During this informal concert, which was held in Bedford's gymnasium, each grade got to play their Sean O'Loughlin piece conducted by O'Loughlin himself. This gave him the ability to work with the students directly and in person, giving tips and critiques to make the pieces sound even better.
Afterwards, the orchestra students sat in the bleachers to listen to O'Loughlin talk about his experience as a composer. He described working in film scoring for about eleven years. He got to work for projects such as Harry Potter and Star Wars, capturing the interest of many of the students.
As he grew in the industry, he was able to work with artists like Pentatonix, a well known acapella group. "There's a lot of people in LA working in the film and music realm," he explains when talking about his struggles in the industry.