Marvel v. DC: Superheroes Battling for your Attention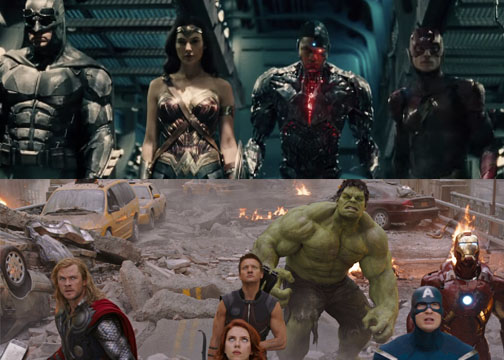 Hang on for a minute...we're trying to find some more stories you might like.
DC and Marvel are among the highest tiers of pop culture, entertaining fans of all ages. While originally comics, these companies are now raking in billions of dollars with their movies and product licensing.
Marvel's "Thor: Ragnarok" and DC's "Justice League" are no exception; both released this past November. These new movies have added to the ongoing competition between DC comics and Marvel.
"Thor: Ragnarok," having come out on Nov. 3, is the third film in the Thor series. The story is that Thor, the god of thunder (Chris Hemsworth) finds himself imprisoned on a distant planet. While he faces the threat of death, he comes across his old friend the Hulk (Mark Ruffalo). While they get reacquainted, the evil goddess of death Hela (Cate Blanchett) ravages Asgard, Thor's homeland. His brother, Loki (Tom Hiddleston) also appears, in addition to a scene starring Doctor Strange (Benedict Cumberbatch).
The director, Taika Waititi said to Business Insider that "We were just doing whatever we felt we wanted to see in the film." Creating unconventional scenes for a superhero film, the movie turned out to thoroughly please the audience.
Marvel Comics, founded in 1939 by Martin Goodman, is a series of comics featuring popular superheros. In 2009, The Walt Disney Company bought the Marvel for $4 billion. Like DC, Marvel has produced several popular movies, such as the "Captain America: Civil War" franchise.
From the DC comics, "Justice League" was released on Nov. 17. It takes place after the events of "Batman v. Superman: Dawn of Justice." The film was directed by Zack Snyder who has directed many DC movies in the past.
The movie starts with the death of Superman, and so Bruce Wayne and ally Diana Prince are attempting to put together a team of other heroes (or metahumans, according to the film). The team consists of Superman (Henry Cavill), Batman (Ben Affleck), Wonder Woman (Gal Gadot), all who have featured in DC films already. The heroes must fight to save the planet from Steppenwolf (Ciarán Hinds) and come across many difficulties in the path.
It will also debut the following, aside from their respective short scenes in BvS: the Flash (Ezra Miller), Aquaman (Jason Momoa), and Cyborg (Ray Fisher). They must, as expected, save the planet from an enemy who has returned to earth, greater than ever seen before.
Justice League worked with a budget of $300 million, making it one of the most expensive ever released. Sets were created in Iceland, London, and Scotland.
The DC Extended Universe (DCEU) has a rough recent history, including "Suicide Squad" which received a 26 percent from critics on Rotten Tomatoes and "Batman v Superman: Dawn of Justice" with a 27 percent. Both of them had just over 60 percent from the audience. However, the recent Wonder Woman is acclaimed as one of the best action films from this past summer, competing against Marvel's "Spider-man Homecoming" which was also highly praised. The franchise is known to have a significantly darker aesthetic than Marvel.
DC has several films planned for the upcoming years, including Aquaman in 2018, the Flash with "Flashpoint" in 2020 and Cyborg also in 2020. In addition, "Justice League Part Two" will be released in 2019.
Students at Bedford have their opinions on the films. James Dobin-Smith, a seventh grader, said, "The old DC movies used to be good, but now they've turned really bad. They might take a turn for the better with the Justice League, though. So, I prefer Marvel." Other students who prefer the DC movies tend to take a liking to Superman and Batman.
Overall, the new releases of the movies have added to the already suspenseful world of the superheroes. Though there is competition between the DC and Marvel Comics, the superheroes themselves, have never been better.