Westport Pizzeria Serves Its Last Pie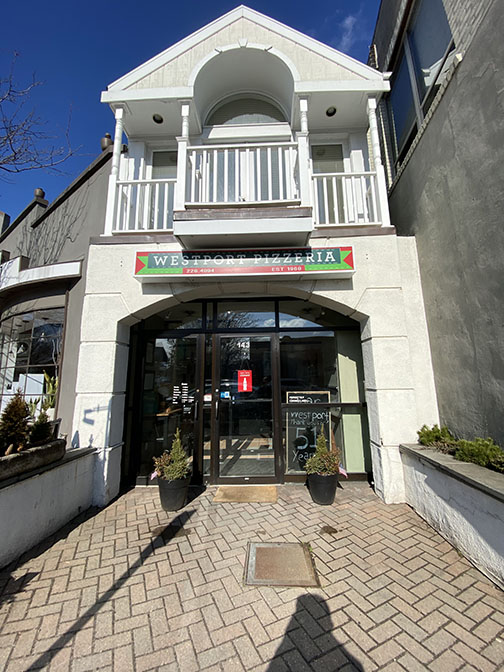 After 51 years, the much beloved local eatery Westport Pizzeria is closing its doors. The business opened in 1968 selling 25-cent slices and has remained under the ownership of the Mioli family over its half-century long tenure.
Westport Pizzeria was founded by brothers Joe and Mel Mioli, who moved from Sicily in 1961 to White Plains. Mel was encouraged to start a restaurant by another brother, Joseph, who was also involved in the food industry. While Joe Mioli eventually stepped away from the business, Mel and his wife ran the business until it's final day.
While Mel Mioli has said "I don't think about retiring," he was finally forced to step away because none of his sons wished to carry on the family business, and he was not interested in selling it.
Westport Pizzeria was a favorite restaurant of many Bedford students, including 7th graders Brian Divino, Nathaniel Phillips, and Jordan Keusch. Brian praised the establishment's cheese pizza and good service, while Jordan commented, "Westport Pizzeria is very Westport." Nathaniel said of its closing, "I do not just like it. It was a staple of Westport. It was the best pizza in Westport and a staple of my childhood."
Throughout Westport, businesses have closed their doors due to a plethora of reasons. According to the "CTPost,? those looking to start businesses in Westport or those who already have businesses here are also intimidated by rents, which some tenants feel are priced higher than usual. Additionally, a flooding problem for businesses located near the Saugatuck
River has driven shops to close their doors. Westport Pizzeria closed not because of strategic, economic or structural reasons, but because of the lack of family to carry on the business.
While Westport Pizzeria is closing, new businesses – and new pizzerias – are opening around Westport. Bedford students will mourn the loss of, as Nathaniel Phillips put it, a "staple," but they can still dig into new slices elsewhere, including the Bedford cafeteria, as pizza has come back to the menu. Be it Sicilian or Neapolitan, pepperoni or cheese, Chicago or New York-style, or even our very own New Haven-style, long live the slice!