Bringing BMS a Year in Pictures is a Huge Effort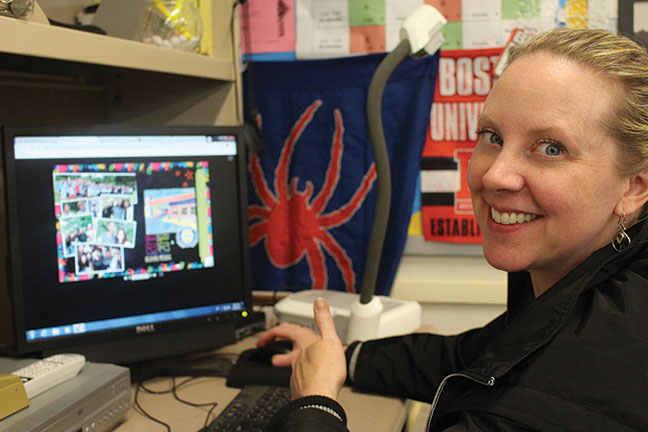 As the end of the school year approaches, there comes the massive effort to produce and distribute the school yearbook. Ms. Rodriguez, a 7th grade Language Arts teacher at Bedford, puts a great amount of time and effort every year, organizing and laying out the yearbooks. Ms. Rodriguez uses a layout program called Pictavo, an online photo editor in order to create the yearbooks.
However, the process of designing the yearbook can present some challenges.
"Getting the photos of all the events is a very challenging part", says Ms. Rodriguez.
The theme of the yearbook is bright colours as this year's yearbook has vibrant, bright colors that bring out the page. Retrospectively, the previous year's yearbook had a theme based on mindfulness, or "living in the moment", with interesting geometric designs. "One of the best things about putting together the yearbook is the layout of the pictures," Ms. Rodriguez said. The yearbook includes photos from School Picture Day and events such as field trips.
"Collecting signatures for the yearbook to remember my friends is cool." says Josh Gordon, an eighth grade student here at Bedford. This year's yearbook will be the sixteenth release, ever, since the school's opening in 2001. The yearbook also includes a "year in review" section, featuring a collection of important events that occurred during the year. "It's nice to see the photos and see what everybody was doing this year," says Francis O'Brien, a seventh grader at Bedford.
Overall, a great amount of effort goes into the yearbook and many students enjoy it. A massive thanks is to be deserved to Ms. Rodriguez, for creating the yearbook.
Correction:  In the paper, this article ran under the headline "'Living in the Moment' Takes a Lot of Time." It was pointed out after publication by the writer of the article that "Living in the Moment" was last year's theme, not this year's theme. The reporter had the correct information; the lay out staff had the wrong headline.