Those Who make BMS a Mosaic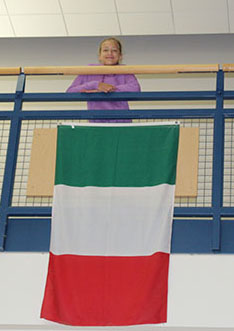 Hang on for a minute...we're trying to find some more stories you might like.
This year Bedford has over 12 students who have come to Bedford from different countries.
One of these students is sixth grader Elli Gabrielson, who moved to Westport just about two months ago from a small village in southern Sweden.
"I go to ice skating twice a week," Elli says.
Back in Sweden, she continued, school was pretty different. For example, at school, they didn't wear shoes; it was socks only. They also weren't allowed to bring their own lunches. They were just given the same meal throughout the week, usually fish and potatoes.
Between some of their classes, they were given 15 minute breaks where they were allowed to go outside, and a one hour recess after lunch.
Where she comes from, Bedford is more similar to a Swedish high school than a middle school. At the middle school level, there are no lockers and no cafeteria. She also said that there was always a week to complete any homework assignments. Also, in Swedish, there are three letters that aren't in the English alphabet: Å, 'Ä, and Ö.
Paige Farlow is an eighth grader here at Bedford.
She was born in Hong Kong, then moved to London for six years, then Singapore for three years and made a final move to Westport in 2014.
Paige says that all the schools she went to were slightly different. She says that the school in London was private, and once a week they walked as a school to church.
Her school in Singapore was similar to Bedford, but it was smaller and they had to wear uniforms. She says that her family is originally from Australia, but she has never lived there for an extended period of time. "I miss my friends, my grandparents and the ocean waves," said Paige.
Maya Gubitz was born in England, then moved to Germany, then moved to Italy, and ended her journey in 2016, in Westport. "In Italy, we had to wear uniforms; however, we were allowed to leave school grounds during our two, one-hour recesses." Her family is South African, but she has never lived there. She says that out of the four countries she's lived in, Italy is her favorite, because she says that everyone there was really kind and didn't seem to care about how you dress. Maya says that she misses her friends, family and the fun memories.