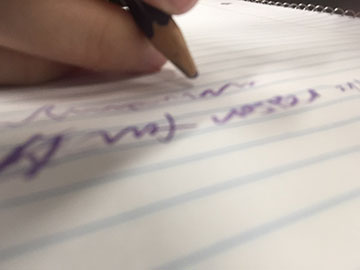 Lucia Wang
With the growing presence of technology in classrooms throughout Westport, it's common to take notes digitally, and even preferred due to its efficiency and quickness. Students at Bedford, now equipped with Chromebooks and laptops during lessons, are often seen typing up their notes into Google Docs as the teacher lectures.
However, research shows that handwriting notes allows the student to learn and retain the information far better.
In a study from 2014 published in "Psychological Science," by Pam A. Mueller of Princeton University and Daniel M. Oppenheimer of the University of California, Los Angeles, multiple experiments were conducted in order to form this conclusion. During this process, Mueller and Oppenheimer instructed half of a group of students in a classroom to take notes by handwriting them, and the other half with a laptop. The students were then tested on their memory for factual detail, in addition to their overall understanding of the topic and ability to apply the information.
Unsurprisingly, students who used laptops took more notes. However, those who hand wrote them performed better during all elements of the memory testing, gaining a better conceptual and factual understanding of the information. Mueller and Oppenheimer found that handwriting notes used different types of cognitive processing, which was why the two methods showed different results.
Mr. Stephen Rexford, a language arts teacher in the eighth grade red pod who also taught study skills at Staples, said, "Taking notes by hand beats taking notes by typing everyday of the week — and twice on Sunday."
He explained the reasoning behind this phenomenon: "I think the kids think typing is faster, but typing faster is not better. What happens is that when you're typing, you're actually switching into a recording mode. The brain says, 'I am simply going to copy down everything [the teacher] says.' When it does that, you're not actually listening, which is an active process."
"The human hand only writes 30 words-per-minute, and sometimes people are speaking 100 words-per-minute. You have to write down only the keywords that are said, not articles or extra words. You're actively boiling the lecture down by handwriting," he said, and that's what helps you listen better and learn more.
This year's eighth graders are the only grade level to have access to their own Chromebooks, which they bring with them to nearly all of their classes. Thus, they have grown accustomed to constantly having the choice between taking notes electronically or handwriting them.
Tegh Singh, an eighth grader, is an example of some of the students who take notes electronically. He said, "It's easier to write and copy down the information, and it's easier to read. It's faster, too."
"Also, in Google Docs, it's easier to format it, and you can access it better. You can print it if you need to, or keep it online," he added.
On the other hand, Sienna Llorens, also an eighth grader, disagrees. She explained, echoing the study, "I feel like I memorize it all better [when I hand write notes], and it sticks in my brain faster than when I type them. When you're typing on a computer, you type faster to get all the words, but writing by hand means I'm getting all the important parts."
Essentially, this all means that despite the advantages technology brings to the classroom, there remains adverse consequences that students should take into account. When given the choice, it's important to remember that although note-taking electronically appears better, this is often not the case.
Next time you're asked to take notes, try picking up a pencil and some loose leaf paper — and perhaps it'll make a larger difference than you'd expect.