The Real Cost of In-App Purchases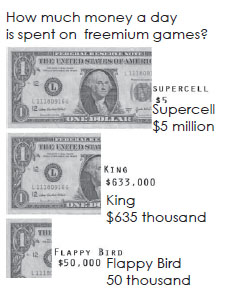 They've bought up all of the velvety-voiced announcers and fancy computer animations to entice you to buy their products. They say only you are skilled enough to play. This is what we've come to expect of this new booming era of "freemium gaming." Freemium gaming is a category of mobile games which are free to download on the App Store, or Windows store, but as players play, they are given the option to improve the experience by buying additional features as they are playing. Many who play, fall into the traps of large companies like the Swedish company King, the creators of the hit game Candy Crush, and the Finnish company Supercell, the creators of Clash of Clans.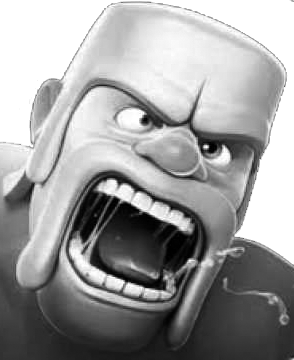 Imagine you are playing the hit game Clash of Clans, and you are trying to make your village better, but you are still being pummeled by competition. When you likely don't have enough resources to build a good defense, that's where in-app purchases come in. Your village can continue to be raided, or you can pay for an item called "gems," which help you buy the best items, so you can now fortify your defense.

Unsurprisingly, these gems are pricey for a digital object. A pack of 500, the lowest amount you can buy, will cost you $4.99. This is a very effective business model. According to Forbes.com, Clash of Clans grossed $892 million in 2013. Though this may seem like a smart strategy for gaming companies, games like this tend to drain the player's wallet or even worse, parents' wallet.

"

With some smart decision making and a little self control, you can make a smaller impact on your wallet."

Some hit games use a marketing technique where to get new levels or characters you have to pay money. A company called Hipster Whale, the creators of the game Crossy Road, employs that strategy too, charging 99 cents for some characters, while you can earn others within the game for free. Using this strategy, it generated $10 million. Imagine how much they would make if they forced players to pay for all of their characters.

Not all apps are made by big companies though. The super-famous game Flappy Bird was made by the Vietnamese game developer Dong Nguyen. This game earned money from ads. It was free to play, but even so, he made $50,000 a day. Though he removed if from the App Store in 2014, people still play it, and he still profits from it.

Many people of various demographics, such as the middle schoolers at our school, pay large sums of money over time to buy these short experiences that only give you a temporary thrill, and an empty pocket. People who make these games need the money though. It costs $99 a year to maintain a developer license, and they need to maintain their business. Gamers should try to stick to optional-pay games to save money and speeches from parents about Internet spending.

There is no doubt that mobile gaming has taken a chunk of the traditional gaming console business. With some smart decision making and a little self control, you can make a smaller impact on your wallet.