Good Game, Terrible Launch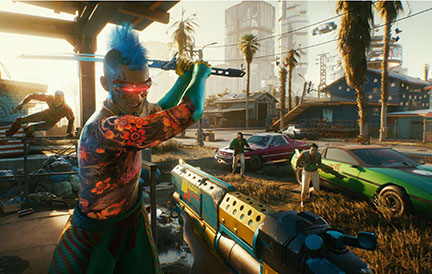 There have been a few video games in the past few decades that have gotten a lot of hype. Titles like Super Mario Bros and Mortal Kombat are some of these well known and loved games.
However, few games have seen hype like Cyberpunk 2077.
Even in 2013, CD PROJEKT RED, the studio behind the game, was releasing teaser trailers, aiming to intrigue possible developers and designers for the game. I first found out about it while watching E3 2018, a video game and electronics convention, where Keanu Reeves came out on stage to announce that he would be featured in the game.
Seven years is quite a long time to wait for a video game to be released. After that long, everyone was expecting nothing short of absolute magic. However, it didn't go so smoothly.
Now, the game. How is it? Short answer: good. Long answer: it's a little complicated. Cyberpunk 2077 is a single player RPG (role playing games) shooter. The storyline follows V, the character you play as. He's a mercenary trying to survive in Night City, the metropolis where the game takes place. When compared to other RPGs, it reveals itself to follow the same basic rules, with a large, open world, with character interaction, and lots of quests. It's sort of a mix between Far Cry 5 and Fallout 4, two other games, merging together their quest systems and character leveling systems. However, the game's NPC AI is adequate at best, with people often getting stuck on stairs and walking through walls. It was faced with some of the worst performance ever after a game launch, with many who bought it on their Xbox Ones only able to play it when all the graphical settings were put on medium or low. After paying sixty dollars for it, many were furious about how poor the performance was and how many bugs were in the game, and CD PROJEKT had to create a special portal just to accept refunds for the game. They even went as far as to pull the game off of the PlayStation store while they got the game up to par. I bought it on Google Stadia, so the performance was much better when I played it. That isn't to say the experience was perfect (mostly due to the fact that I was streaming the game to my laptop), but it was fairly playable for me. However, my scenario is far from what most will play Cyberpunk on, so take everything I say about it with a grain of salt. Your experience will most likely differ.
While the game had a very rocky launch, Cyberpunk 2077 isn't half bad.
It has an engaging story, decent mechanics, and hours of content. However, not many will be able to run the game at present. If you're planning to pick up a copy, I'd wait a few months for CD PROJEKT to patch some of the bugs and improve performance.
After they do that, however, I believe the game will become something known as a success rather than the failure of the decade.