A Night of Bedford Talent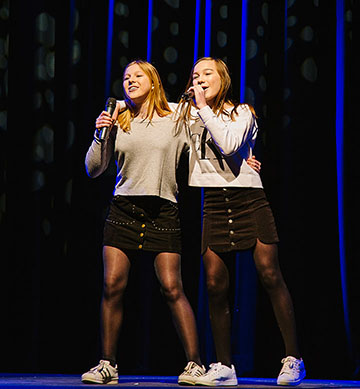 Hang on for a minute...we're trying to find some more stories you might like.
Students and teachers who arrived at Bedford on the evening of Jan. 26 got to see amazing talent performed to a packed crowd. The "Bedford's Got Talent" show, run by parents Kelly Konstanty and Damon Conte, started a few years ago. Each year the show has grown in popularity. The student hosts of the event were Nick Augeri and Jack Edwards. They introduced the acts and even did a lip sync of "Party in the USA" that was funny and entertaining.
To kick off the event, Ishan Prasad played "Amazing Grace" on his bagpipes.
"I get to see everybody else's cool talents," he said. When he led it off, everybody was surprised about the interesting instrument, an instrument he says he really enjoys playing.
In all, 22 acts took the stage. Most of the acts were students, but there was also an act comprised of teachers: Mrs. Michelle Anderson, Mrs. April Harvey, Mr. Anthony Granata, Mr. Jason Frangenes, Mr. Matt Keeler and Dr. Adam Rosen all participated. Their string ensemble was very popular and received a loud ovation.
One act that stood out was 7th grader Joy Xu. She played Chopin, Fantaisie Impromptu in C# minor. After her performance, she received a standing ovation because she memorized this five-minute piece.
"I like the opportunity to play in this environment and performing in general," she said.
Another performance that came to the stage and was applauded by the crowd was 8th grader Ellery Bodell's performance of "Beautiful" by Christina Aguilera.
"I love the talent show because I get a chance to express myself on stage, and I am not usually in the spotlight so I love it," she said.
Another performance that truly captivated the audience was 7th grader Jeffrey Pogue using "The Diablo." A Diablo consists of two sticks connected by a string that is used to balance a spinning object shaped like an hourglass. His glow in the dark Diablo lit up the stage.
In the talent show finale, all of our talented 7th and 8th graders sang "This is Me" from "The Greatest Showman." The song was written by two former Staples students: Justin Paul and Ben Pasek. It was a truly fantastic and well-deserved ending to a star-studded talent show.
Truly spectacular students performed this year, and we can't wait for next year's performance.